IN THE CRADLE OF COPPER, CHILE IS DIGGING DEEPER AND WIDER TO REIMAGINE ITS ECONOMY. Government leaders don't want mining to define the country's opportunities—and with good reason. A global manufacturing slump that slashed demand for the country's signature export during much of 2019 stunted growth. The fallout triggered widespread and deadly protests last year over income inequality.
Now, the world's largest producer of copper ore and the fourth-largest economy in South America is determined to diversify—and the transformation starts at the top. President Sebastián Piñera's investment blitz (including a proposed 3 percent spending increase for 2020) is designed to accelerate growth and make sure the nation no longer lives and dies by a single industry. In June, the government pumped US$4 billion into an infrastructure program that will fund projects for highways and reservoirs as well as airports designed to better withstand earthquakes. And in the private sector, a push to digitize industrial processes will help modernize critical sectors, including mining.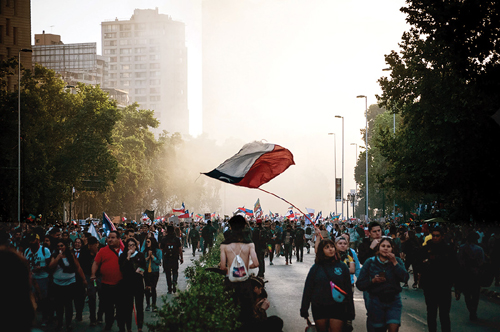 A demonstration in Santiago, Chile
UNSPLASH
The early returns are promising. Even as Chile anticipates an increased deficit from the fiscal reforms undertaken to quell protests, it remains on pace to see 2.2 percent growth in GDP in 2020 and 2.8 percent the year after. Restoring solid footing should help smooth out the growing pains of diversification and build sponsor support for teams executing projects in nascent industries. Another plus: having a relatively mature project management environment in a country that has regional headquarters for many multinational engineering and construction companies.
"In Chile, project management is continuously maturing," says Carla Catalano, PMP, principal project manager, PMI Global Executive Council member Microsoft Chile, Santiago, Chile. "Our profession is growing in the country."

—Carla Catalano, PMP, Microsoft Chile, Santiago, Chile
GROWING COMPLEXITY
In an evolving project environment, project professionals in Chile must help teams navigate change, particularly as foreign investors and contractors fuel new partnerships on initiatives. Aligning disparate stakeholders to common strategies and objectives helps project managers ensure everyone from sponsors to end users understands the value projects must deliver, Ms. Catalano says.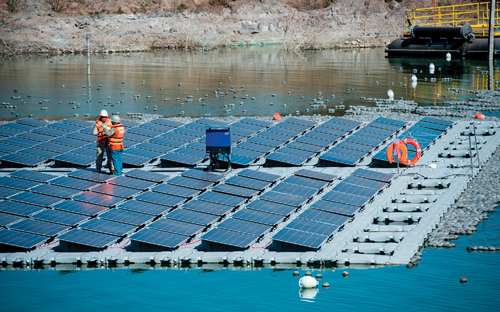 Above, a solar plant installed on a floating platform on mine tailings in Colina, Chile.
Because many of the projects underway in Chile are either funded by the government or require government approvals, another common roadblock for project managers is delays. In many cases, the source is permitting obstacles or a lack of communication. Integrating teams with the sponsor and increasing the frequency and volume of engagement with all stakeholders will help address those risks.
On a US$400,000 project completed in October to implement digital security, identity management and migration planning for a manufacturing company client, Ms. Catalano leaned on frequent meetings to keep all stakeholders engaged and aligned. Daily calls and retrospective sessions allowed her team to establish a clear rhythm with stakeholders that ensured time and resources were used efficiently.
"We needed to get the team performing in a very short time, manage the stakeholders' expectations with lots of clear and specific communication, and make sure all the details and dependencies were specified," she says. "A lot of precision and communication was needed to be successful, and we did it."
PRESSURE TO DELIVER
The appetite for change also means sponsors want fast results. But the demand to accelerate delivery can lead to hastened or inadequate planning. In the airline industry, the entry of low-cost carriers in the region has increased competition, pushing sponsors to demand fast turnaround on initiatives, says Victor Elizondo, PMI-ACP, PMP, technical project manager, product owner, LATAM Airlines, Santiago. To successfully improve the culture, he has worked to reinforce in colleagues the benefits of devoting more time to the planning phrase of projects.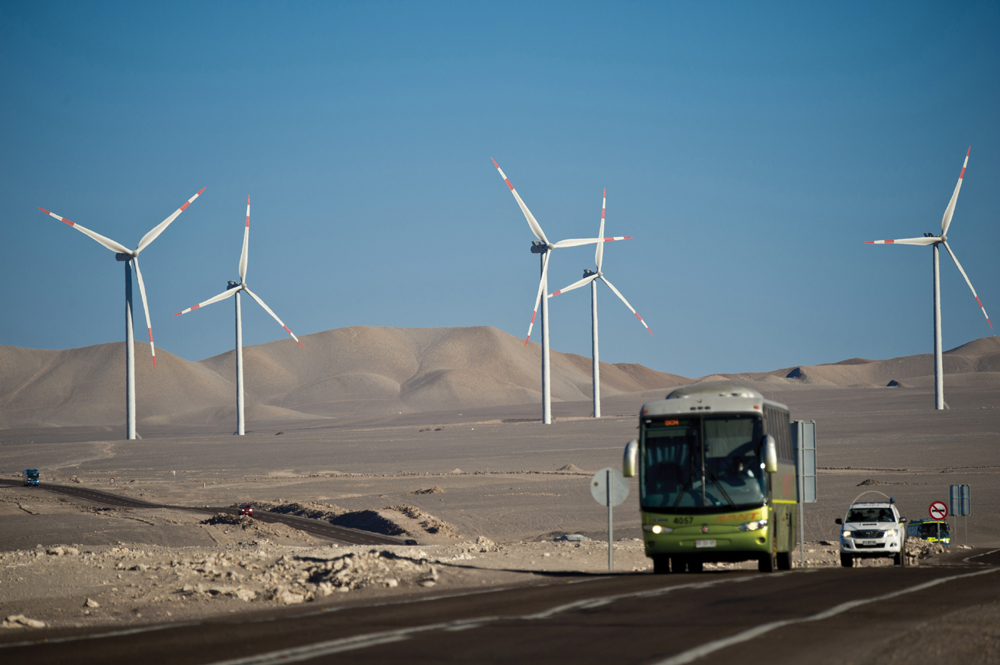 Wind turbines installed in Calama, Chile
PHOTOS BY MARTIN BERNETTI/AFP VIA GETTY IMAGES
"If you're planning well, you're executing very well," he says. "In Chile, some perceive the planning phase as a waste of time when the project is not progressing, therefore there is a constant rush to reach the execution phase. It's common to find initiatives without business cases that support them, projects with extremely underestimated planning phases, poor risk and control change management, and difficulties to predict the project's future state."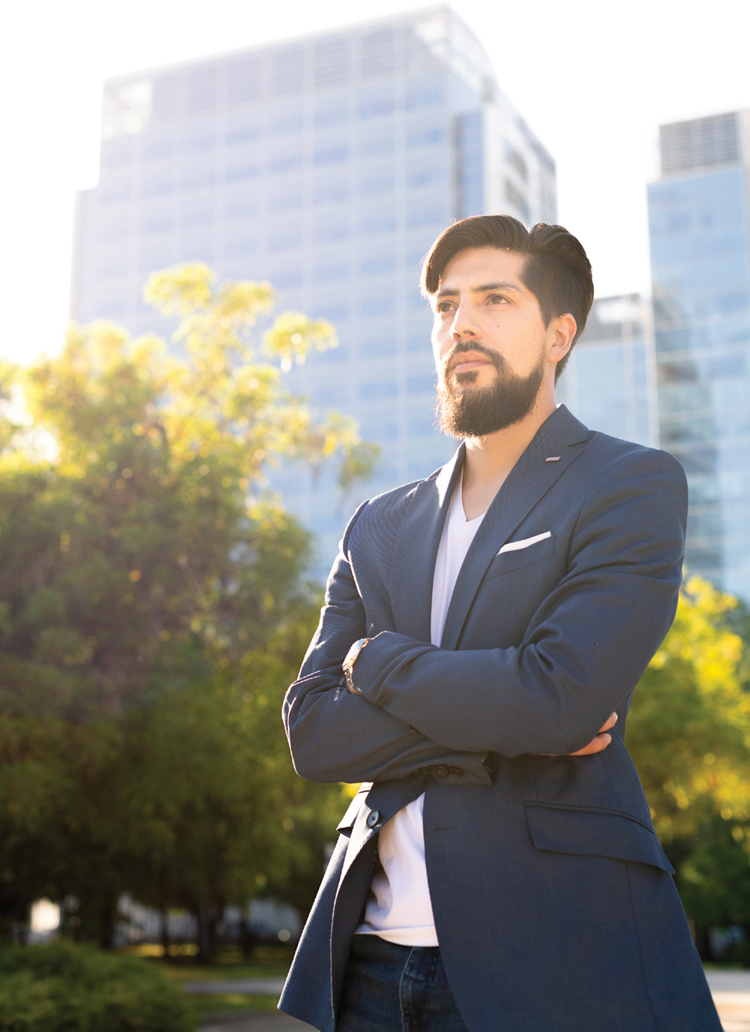 —Victor Elizondo, PMI-ACP, PMP, LATAM Airlines, Santiago, Chile
Mr. Elizondo and Ms. Catalano have turned to agile approaches to gain greater efficiencies, even on projects where waterfall is the primary approach. Ms. Catalano says it helps to incorporate agile approaches that can quicken the pace of projects without sacrificing a strong framework. Mr. Elizondo also has looked for ways to implement agile and hybrid approaches.
"Agile has become the way to do projects, where the most important things are the generated value to the customers and fast and continuous delivery," he says.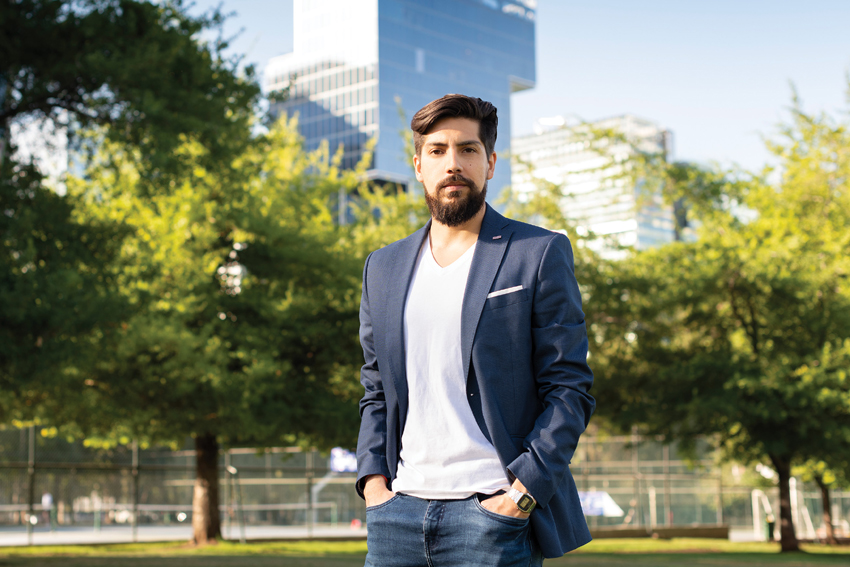 —Victor Elizondo, PMI-ACP, PMP
When he took over a project to enable a digital platform for the customer experience business unit last year, he decided to shift from waterfall to agile to have a more proactive grip on risk with the new technology. "I believed agile would help fulfill stakeholder and customer needs and diminish project risk," he says.
By implementing basic ceremonies like daily 15-minute standups, as well as planning, retrospective and review meetings, the team was able to complete a minimum viable product in half the planned time. "I was able to communicate, align and even get quick feedback with the main stakeholders. As a result, both the project team and the stakeholders understood the same goals and deliverables continuously."
TALENT SHIFT
Expanding into new sectors requires new talent or a shift in skills to meet the unique demands of emerging opportunities. As part of its goal to reach net-zero emissions by 2050, the Chilean government has partnered with the country's four largest power generation companies to phase out its coal power plants. The government also has invested heavily in geothermal, wind and solar projects. As of June, 21 percent of Chile's energy was generated by renewable sources, with 92 projects worth nearly US$5 billion waiting for environmental approval.
Project professionals who adapt are better prepared to respond to new challenges and reshape their careers. Rebeca Poleo, PMP, hydrogen and gas leader, Trachtebel, Santiago, oversaw oil-and-gas engineering, procurement and construction projects in the past. Now, she is working on green energy projects. Ms. Poleo has adjusted by learning more about each industry and applying targeted communication planning to suit new stakeholders.
"One of my biggest challenges has been to reach an optimal communication within the project team," she says.

—Rebeca Poleo, PMP, Trachtebel, Santiago
Another challenge is resourcing. Alejandro Gallardo P., PMP, senior project management officer, PMI Global Executive Council member Indra, Santiago, says managing allocation of talent requires extra attention because people often tackle dual roles. As a result, at any given time, immediate project needs are prioritized over longer-term needs and benefits. Sometimes the only solution is to extend deadlines, but Mr. Gallardo says an agile approach and regular follow-up meetings with stakeholders can ensure the right resources are available to ensure on-time delivery.
"Productivity is prioritized over development, because it is the activity or service that you have directly in front of your customers. It is your reputation at stake," he says.
For Chile to build a robust and diverse economy, project managers must increasingly ensure teams align to strategy, get up to speed on new processes and requirements, and drive long-term ROI that will help absorb future slumps in the copper trade. PM
WIDER HORIZON
These megaprojects represent Chile's desire to broaden its economy.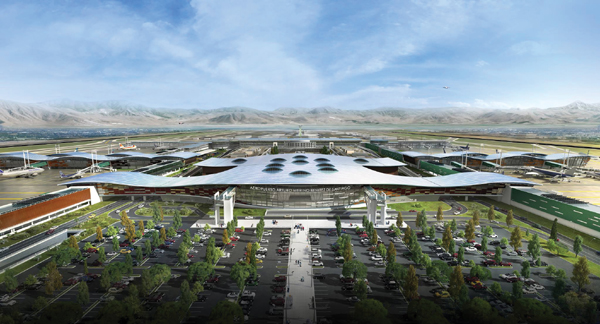 SANTIAGO INTERNATIONAL AIRPORT EXPANSION
Snapshot: A new international passenger terminal and an upgrade of an existing passenger terminal, plus other improvements.
Sponsor: Ministry of Public Works of Chile
Budget: US$720 million
Status: Scheduled to be completed 2021
Boost: The number of passengers served increased from 16.1 million in 2014 to 19 million in 2016. The project will increase capacity up to 38 million passengers.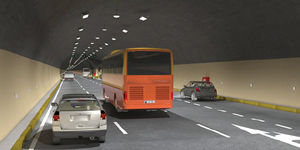 AMERICO VESPUCIO ORIENTE HIGHWAY (AVO 2)
Snapshot: A 5.2-kilometer (3.2-mile) underground expressway in Santiago has faced delays since the 2014 launch, including temporary suspension of its environmental assessment process in 2017.
Sponsor: Ministry of Public Works of Chile
Budget: US$800 million
Status: Scheduled to be completed by 2022
Fallout: Cost increases and surprises abound. For example, a tunneling machine will be needed for a 2-kilometer (1.2-mile) stretch of the expressway originally planned as an open excavation construction.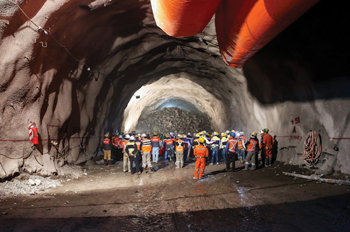 CHUQUICAMATA UNDERGROUND MINE
Snapshot: A tunnel under one of the world's largest open-pit mines was converted into an underground mine, allowing Codelco to exploit the remaining resources located below the current ore deposit until 2058.
Sponsor: Codelco
Budget: US$5 billion
Status: Completed August 2019
Boost: The 100-year-old mine's life will be extended by at least 40 years, increasing nominal production while reducing its emissions.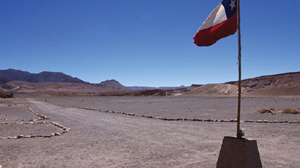 CHILE'S LARGEST SOLAR PLANT
Snapshot: In Chile's largest desert, construction of a 382-megawatt solar plant with 1 million photovoltaic panels is projected to generate about 1,160 gigawatt hours of energy per year.
Sponsor: Enel Green Power
Budget: US$320 million
Status: Scheduled to be completed by the end of 2020
Boost: The plan will avoid 900,000 tons of carbon emissions annually.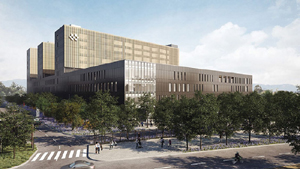 FELIX BULNES CLINICAL HOSPITAL
Snapshot: With 523 beds and 11 surgery halls, the hospital is expected to benefit more than 428,000 residents.
Sponsor: Ministry of Public Works of Chile
Budget: US$231 million
Status: Delayed
Diagnosis: The project's original contractor was replaced after it was accused of not paying subcontractors.