In the late 1990s, Citibank gave birth to a shiny new distribution channel. "Citibank had a powerful focus, even then, on the idea of Internet-based distribution channels as being the nectar of the gods," says Donald Gardner, president of Gardner Project Integration, Hastings-on-Hudson, N.Y., USA, who consulted with Citicorp. "And that's the attitude that we need to have, that an e-project has branch banking, call centers, tellers, relationship management, ATMs, deposit boxes. A financial portal can be viewed as a bank in a box."
Lessons Learned
■

How project management enables better decisions about financial portals
■

Why common stumbling blocks stymie e-project efforts
■

What to consider before launching a customer service portal.
| | |
| --- | --- |
| | The touch point may be when you insert your credit card at the gas station and get a cash advance or make a bank deposit from a kiosk at your local grocery. It can happen in your car on your handheld or cell phone. Or it can be from your desktop at home. |
Banking online, for instance, does not mean poaching customers from branch banks, as some at Citicorp thought, Gardner says. "It simply creates touch points for services," he says. "The touch point may be when you insert your credit card at the gas station and get a cash advance or make a bank deposit from a kiosk at your local grocery. It can happen in your car on your handheld or cell phone. Or it can be from your desktop at home." Identify the touch points, he says, and you've begun to define the project.
OBSTACLE COURSE
Financial service companies today know that whatever service innovation they can imagine, they can undertake. The problem, according to Keith Young, managing partner and CEO of Integrity Solutions in Detroit, Mich., USA, is advancing ideas the right way.
Young runs an "e-project boot camp" for project managers and executives who appreciate the importance of e-business projects to their customers but have experienced difficulties creating them.
Co-author of Managing E-Business Projects, Young suggests successful e-project implementation is like running an obstacle course with six major hurdles:
1. People and Culture. Understand people's attitudes within the organization, what their expectations are and what the stated mission is.
2. Legal and Regulatory. Anticipate everything relating to laws, standards, guidelines, codes of conduct and the rules of the road.
3. Security and Privacy. Manage who gets access to data, and how it is used once they do have access.
4. Internet Technology. The full gamut of technological tools, from content management to applications processing.
5. Content and Data. Every kind of information about an enterprise that must come together to make a portal work, including numbers, graphics, text and part numbers.
6. Business Process. How you actually do business online: via the Web, or e-mail, or a hybrid with voice mail or snail mail.
Financial services make unique demands on Internet technology, says Alex S. Brown, who builds Web-based systems for insurance company Chubb & Son and was a principal in creating the Merrill Lynch Direct site. At Merrill, his team developed real-time quote services for the site. That component has become an essential part of any brokerage Web site today.
"Our products are complex, with a deep vein of data underlying every customer interaction," Brown says. "Making this kind of information available online isn't a competitive advantage for brokerage firms anymore, it's a necessity, the price of admission. Brokerages led the way to online data because they needed to deliver real-time information on prices. But banking and insurance companies followed on their heels."
Customers today expect to do their business online. So big online projects have become an indispensable part of the service mix.
New Directions
At BNY Clearing Services in Milwaukee, Wis., USA, Compass, which serves as a broker workstation and portal, is the flagship of an impressive array of e-projects.
"Compass is how we meet and interact online with BNY'S network of broker-dealers," says Compass Project Manager Lee Erzberger. He hears from people in the field that the site may not necessarily be flashy or conspicuously state-of-the-art, but it's easy to use and, therefore, they use it.
"It's not unusual for organizations to expend a lot of resources on a project only to find people drag their feet about using it," he says. BNY Clearing Services conducted extensive field studies beforehand to ensure the system was beneficial.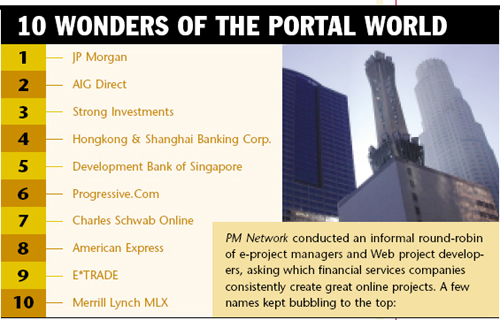 "Inside the company, we felt we had a good handle on what people wanted and needed," Erzberger says. "But we realized customers had their own definition and priorities for how a good tool would work. We learned, for instance, that they were really interested in having online investment research available to them."
Because e-projects share space with e-products, BNY Clearing House separated iterations of Compass as projects to maintain better control of the builds. First unveiled in January 2001, Compass boasted numerous lines of code and has been through four or five major updates since then. Each update was a separate project, otherwise the laundry list of desirables would have become overwhelming, Erzberger says.
The distinction between project and product was maintained vigilantly. "It's vital to make sure the methodologies of both project management and product management/development fit together," says Christian Rosenstock, who headed both the project and product sides at BNY.
"It took some work, and then some rework, but our product development process went much smoother once we mapped it to the project management process," Rosenstock says. "Once the two disciplines are in sync, everyone knows what the other players are doing, what they are focused on and why. All of this leads to consistency in the execution of product development projects."
Senior managers must clearly understand where the project ends and the product begins, says Amy Schwab, president of True North Project Guidance Strategies Inc. in Walla Walla, Wash., USA. "Mistaking project for product is like mistaking the restaurant for the meal," she says.
One way to keep them separate in your mind is via a third concept, the purpose that underlies both project and product. "The project's value is identifying the short-term constraints and negotiating the trade-offs for what aspects of the business objective will and will not be met through the design of the product," Schwab says.
The project's value is identifying the short-term
constraints and negotiating the trade-offs for what
aspects of the business objective will and will
not be met through the design of the product.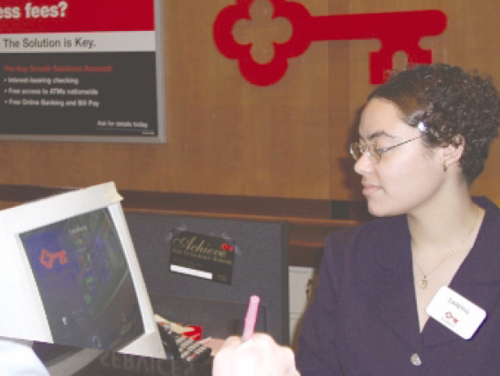 Technology provides Key Bank teller Sandra Montanez with information to enhance client service. Other professionals at Key rely on quick-access portals to view account information, customer research and supply orders, such as check requests.
When project teams don't make these distinctions, they can become myopic and lose sight of the overriding purpose, according to Schwab. "Or, they get so focused on making everyone's wish list come true that they lose sight of the short-term realities," she says. "Either way, the team or the project manager loses sight of what is clearly best for the organization overall."
Practical First Steps
To avoid the common pitfalls of portal projects, first, "don't expect senior management to understand the ins and outs of every Internet technology," Erzberger says. "What's great is when project managers appreciate that communication barrier, they might simplify their suggestions." Adding a link is easy enough, but sometimes, not knowing better, executives ask too much from a project late in the going, and the result is slowdown.
Steer clear of the "let's-do-it" mentality. "One mistake I have seen senior management make is having a 'make-it-so' attitude," says Gardner. "Senior management has learned, I think, that it's not enough to just get the thing done. Every choice you make in a big installation has major implications."
Also, "believe in the project team," says Enrique Cappella, PMP, president of Costa Rica's PMI chapter. "This confidence is essential to a satisfactory project. Of course, it helps if the project team is believable."
There is a virtual graveyard of ideas that financial services companies attempted to implement before technologies existed to make them possible, and long before customers indicated their interest. Some of the hardest-won lessons include:
Think Digital, Not "Portal." Portal is inside-out thinking, the way you want customers to deal with you. Instead, think out-side-in. Where are customers, and what are their expectations of the technolog?
The requirements phase should help circumvent the biggest pitfall in creating an online product: poorly defined deliverables. It's never enough to take internal systems and plaster a Web front-end onto them, Brown says. "Web users expect ease of use and speed beyond what your company's internal users require." E-projects, therefore, require an extra element of creativity and customer sensitivity.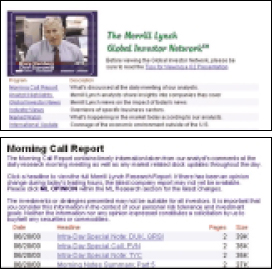 Merrill Lynch's Direct site broadcasts analysts' market views from around the world.
Manage Expectations. Plan conservatively, underpromise and overdeliver, Brown says. "Web developers are anxious to show results and may underestimate the time needed to develop a new service offering. But the company that plans well can keep its own promises." When Brown worked on the Merrill Lynch Direct project, the company began with a modest online service, adding components as the system became more robust and familiar. "But we kept the fanfare to a minimum and set realistic goals for delivery of the product," he says. "In the end, we met the announced delivery dates with better-than-promised capabilities."
Live in the Present. "For many top managers, a prejudice exists against the phrase e-business" Cappella says. The first wave of any revolution usually fails. The future belongs to those who stay in the game. You can design a platform that transmits organizational data to a field force of 5,000 individuals with Palm Pilots, but at $39 per month per unit, you'll save money transmitting via Pony Express.
Make Technology Work at Both Ends. Financial institutions are data. The network must accommodate your bitload, plus everyone else's. Plan from the beginning to widen the pipeline as data volume increases, as it always does. For example, Key Corp., a Cleveland, Ohio, USA-based thrift, equips its customer service people with 19-inch oversized screens, so the customer representative can actually see and hear all those bells and whistles the customer wants.
Every project manager benefits when sponsoring executives appreciate the depth of the project underway. E-projects seeking to survive the obstacle course and succeed with customers have no better resource than executives' understanding and attention.
Do all these things, Brown says, and you've done more than complete an obstacle course. "If you're Charles Schwab, you've revolutionized your industry." PM
Michael Finley is a Saint Paul, Minn., USA-based freelance writer. He is co-author of The Accidental Leader, due out this fall from Jossey-Bass Publishing.