Venezuela, once seen as Latin America's economic superstar, is a country in crisis. Collapsing global oil prices have taken their toll: The economy contracted 10 percent in 2016 as inflation skyrocketed over 475 percent, according to the International Monetary Fund. A 1,660 percent increase in inflation is projected this year.
Yet despite the grim and volatile outlook, there's still project action. Some organizations are committing to major state-sponsored projects. In September, Schlumberger, which months earlier abandoned several drilling projects in Venezuela and has written off at least US$500 million of assets in the country since 2014, took on a contract from Petróleos de Venezuela SA to drill 80 oil wells in the Orinoco Belt. It's part of a US$3.2 billion effort billed as one of the world's largest drilling projects. Canadian firm Gold Reserve has made a 27-year, US$2 billion agreement with the state-owned Petróleos de Venezuela SA to tap mining resources in the same region. And real estate investments are on the rise as local companies look for safe places to stash cash in the face of rapid inflation.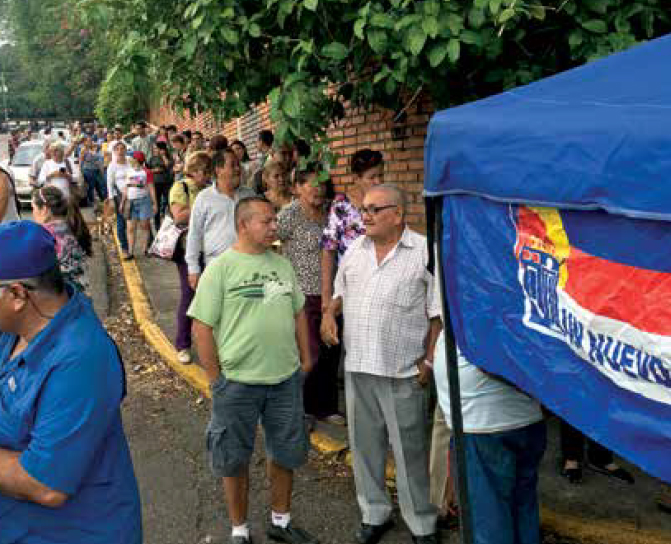 Venezuelans line up to sign a petition to recall President Nicolas Maduro in April 2016.
PHOTO BY CAMACHO9999/ISTOCK

"In an adverse context, project managers can ensure that projects are aligned with the strategic vision of the organization."
—Jeans Delgado, PMP, Digitel, Caracas, Venezuela
Of course, there are formidable execution challenges stemming from political and economic uncertainty. Organizations can find themselves grappling with unpredictable payment schedules, supply shortages and staff retention. "Many companies are dealing with whole teams quitting and leaving for other countries," says Miguel Eduardo Alastre, PMP, a freelance project manager who works on technology, healthcare and consumer goods projects in Valencia, Venezuela.
Project leaders hoping to increase retention might want to start with boosting wages, says Jeans Delgado, PMP, strategic projects leader for telecommunications company Digitel, Caracas, Venezuela. Employee pay has not kept up with the rapidly rising inflation, making it difficult to incentivize project managers, he says.
To reduce risks associated with operating in Venezuela, Mr. Delgado says many telecommunications organizations are focusing on smallerscale projects and funding them three months at a time, he says. With the business environment rapidly changing, project managers can leave their mark.
"In an adverse context, project managers can ensure that projects are aligned with the strategic vision of the organization," he says. —Ambreen Ali
Reversal of Fortune
With prices low, Venezuela's heavy dependence on oil has become a painful liability.
95%
of the country's export revenues come from oil.
US$35.15
Average price of Venezuela's mix of heavy and medium crude oil in 2016
US$88.42
Average price in 2014
US$103.42
Average price in 2012
Source: Bloomberg