Here's a winning formula to take tourists to new heights: Build glass skywalks. Last year a burst of construction projects in China hoisted walkways alongside dramatic cliffs, atop skyscrapers and across gaping canyons. Although their dizzying views differ, these attractions present teams with similar risks regarding safety and compliance with government regulations.
Project managers must be diligent because "Chinese legislation and government inspections are always behind the latest construction technologies and techniques," says Michael Lo, project manager and founder of EPC Solutions, Beijing, China. (He has worked on bridge construction projects in the country.) Translation: While a skywalk team might select a cutting-edge material, such as a new type of glass, that choice could complicate compliance with current regulations. —Ambreen Ali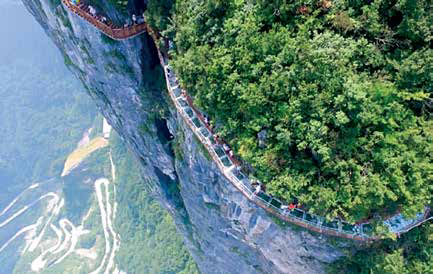 Zhangjiajie National Forest Park in China's Hunan province opened this 1.6-meter (5.2-foot) wide glass platform along a cliff with a 300-meter (984-foot) drop-off in August. The team was worried about threats to visitor safety from above, though; stones could fall from the upper reaches of the cliff. So before completing the construction project, workers removed loose stones to mitigate the risk. But on 13 September, a tourist on the skywalk was injured by falling debris loosened when another tourist climbed the cliff to take photos.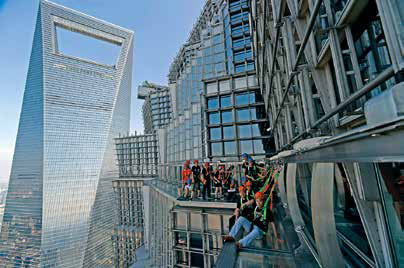 Jinmao Tower Walkway
Jinmao Hotel and Jinmao Hotel Investments and Management took a more daredevil approach with an open-air glass walkway project near the top of an 88-floor Shanghai skyscraper. Visitors are harnessed to the building as they lean out toward a 1,116-foot (340-meter) drop. The world's tallest transparent, fenceless walkway was slated to open in July, but unexpected government safety inspections caused the team to miss that date, according to a Jinmao statement.
Zhangjiajie Grand Canyon Glass Bridge
The world's longest and tallest glass-bottomed bridge opened to great fanfare in August—but three months late. Excessive rains and government inspections extended the construction phase, and after the CNY403 million project ended, a new challenge appeared: overwhelming demand. Operators of the bridge hanging above Zhangjiajie Grand Canyon in Hunan province closed the facility after just 13 days, noting that daily demand was 10 times capacity limits. Project manager Guo Kun's efforts to allay earlier concerns about safety apparently did the trick. He gave media interviews assuring the public there was "no need to worry" and invited tourists to hit the bridge's floor with sledgehammers and then drive a car over it.
The 984-foot (300-meter) high bridge re-opened in late September, upgraded with turnstiles to count how many people are on it at one time.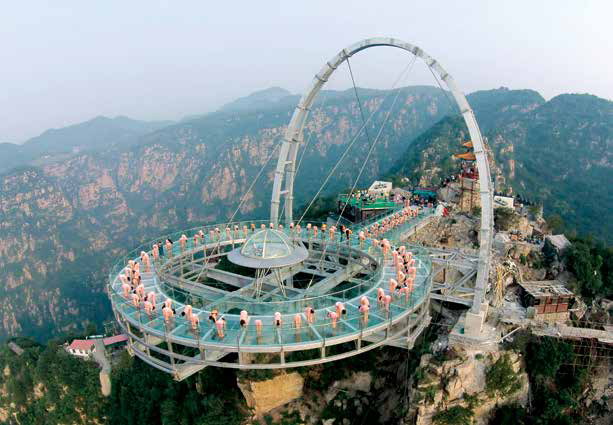 Shilinxia Glass Viewing Platform
The team behind this scenic overlook, perched above a 1,300-foot (396-meter) gorge in Jingdong Stone Forest outside of Beijing, was thinking about flying saucers during the design phase. And safety: Super-strong titanium alloy is integrated into the circular structure, which is held up partially by cable stays. It opened in April.