Introduction
Project management? How do you execute project management? This was the question facing Marriott International three years ago when they realized the loss of millions of dollars from unsuccessful projects. These losses were due to uncontrollable scope changes, mismanaged schedules, and under-estimated budgets. As a result, Marriott International and Marriott Vacation Club International started researching the project management discipline and began developing associates with project management background to begin implementing this discipline at Marriott International. This research culminated in a comprehensive Project Management Leadership Program for Marriott associates wanting to work in the project management discipline. Only associates nominated by an executive committee member are eligible for the program. Now approaching its third successful year, which runs in one-year cycles, this program integrates project management certification instruction, team-building skills, leadership, and other soft skills along with classroom and simulation training. The culmination of the program requires that all selected participants pass their Project Management Professional (PMP®) certification examination. This paper describes the details of this highly successful program, the specific courses included in the program and the results from the first two successful years of the program, which has now certified over 45 Marriott associates as PMPs.
Project Management Growth
As the project management discipline grows within organizations, it is critical to have a training program in place, not only to train future project managers, but also to expand the career growth of current project managers. Part of this training must include PMP certification as well as numerous other programs to develop both project management technical and behavioral skills.
At Marriott International, an extensive Project Management Leadership program was developed two years ago to entice high potential associates to develop project management skills. The program was developed through the Information Resources training department with representation from senior leadership at Marriott International and Marriott Vacation Club International.
Program Development
The program was designed to be a one-year cycle for each group of selected participants. At the beginning of each calendar year, senior managers within the Information Resources department would nominate associates whom they believed were high potential associates in their area who would be successful in the discipline of project management. Nominated associates were required to be at the manager level or higher. All applications would be submitted to and reviewed by the Executive Committee, who would make the final selection. Selection was usually limited to 25 participants (sometimes less), and criteria would be based on the associates who displayed the highest potential for succeeding in the project management discipline and career path at Marriott. Once the participants were selected by the Executive Committee (and the CIO), the nine-month program would begin.
The training curriculum was selected based on the diverse set of skills required in the project management discipline. Although many project management skills cannot be taught in a classroom environment, this program attempted to cover as many skillsets as possible including hands-on simulation in a project environment. In order to develop a curriculum of courses that would be included in the program, a core team of associates from Marriott International and Marriott Vacation Club International looked at the type of training that should be included in the program in conjunction with evaluating potential course offerings from vendors in the marketplace. Ultimately the curriculum would include a mixture of technical and behavioral courses taught by a combination of selected vendors. Also, to ensure that the program was sensitive to the Marriott culture, additional courses taught by Marriott Associates would be integrated into the curriculum. The core development team for the program identified the following areas which would need to be covered in the project management leadership program curriculum: project management training and certification, team building, methodology, project management tools, leadership, conflict, negotiation, presentation and writing, and managing change.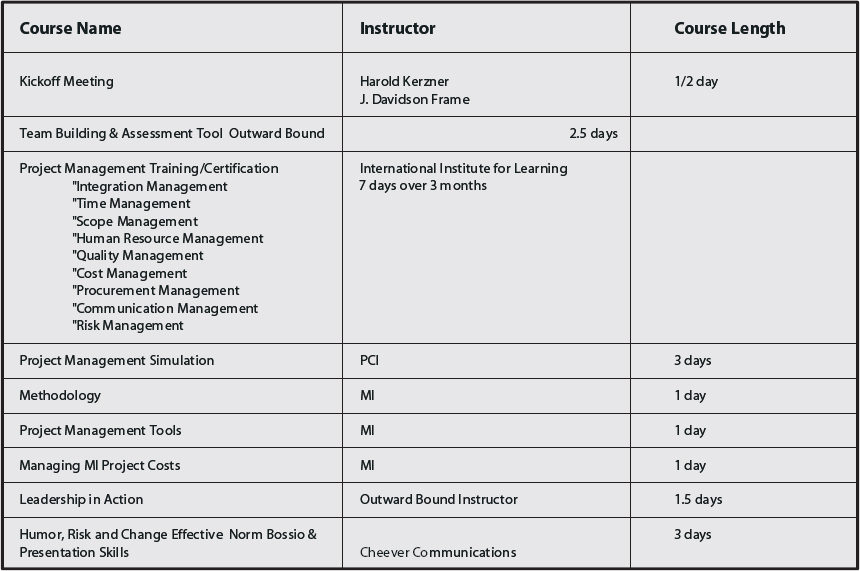 Once these areas were identified, a combination of vendor evaluation and review, previous associate experience with vendors and identification of areas Marriott was qualified to instruct was used to develop and present a proposed curriculum to senior management. Also incorporated in the program was the requirement that all selected participants would sit for and pass the PMP certification examination.
Program Curriculum
The approved curriculum for implementation is outlined in Exhibit 1.
At the beginning of the program, which starts in March of each year, a program kickoff meeting is held to develop momentum within the program by an industry expert in project management. This kickoff is also used for internal networking and to introduce participants to project management as a discipline and the benefits it provides to an organization such as Marriott International. For the kickoff meeting, Marriott International brings in a world-renowned expert in the field to speak on the benefits of project management and the growth of the field as a career path. Previous guests have included Dr. Harold Kerzner and Dr. J. Davidson Frame.
Following the kickoff, an Outward Bound teambuilding is held to introduce participants to each other and to develop relationships with each other for moving forward in the program. The Outward Bound experience is a three-day off-site trip where participants are physically and mentally challenged with exercises that pertain to project environments. Once participants return from this experience, they most likely have built solid relationships with other class participants for moving forward and leveraging knowledge from each other. They have also observed the different personality types within their leadership group, and have discussed how to respect and work with other personality types.
Since a requirement of the leadership program culminates in taking and passing the PMP certification examination, the students also take a seven-day project management training and certification preparation course. This course is taught by the International Institute for Learning and is a seven-day course spread over a three-month period, ending with a certification examination review session. This project management training curriculum covers the Project Management Body of Knowledge (PMBOK®) in detail, addressing each of the nine knowledge areas and incorporating situational analysis of real-world experiences of the instructors. The nine knowledge areas that are included in the training are: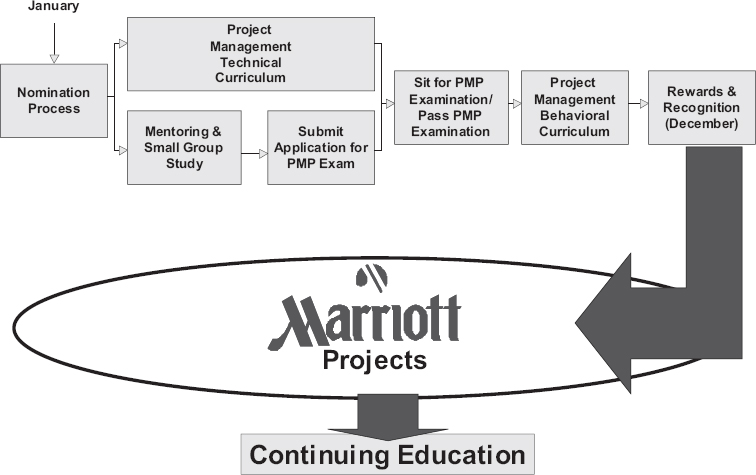 Project integration management
Project scope management
Project time management
Project cost management
Project quality management
Project human resource management
Project communications management
Project risk management
Project procurement management.
Once participants have learned project management in a classroom environment, it is essential that they apply their learnings to a simulation-type experience.
The Project Management Simulation is a three-day hands-on project experience, which divides the participants into project teams. The individual teams go through a real-life six-month project in this three-day period, which incorporates all phases of project management development and implementation, including use of project management tools, relationship building, risk management, cost management, and quality management. The simulation also includes human resource behavioral factors, such as project team members leaving the company, performance issues, conflict management, negotiation, and skill deficiencies. The course concludes with a presentation from each project team on the effectiveness of their project simulation implementation. This presentation is given before the senior management team, which includes the vice presidents of all the participants.
In addition to the classroom portion of the curriculum, participants are organized into small study groups. These groups meet monthly (sometimes weekly), at a minimum, to study for the PMP certification exam. They also share learnings during these sessions as they begin to apply what they have learned in the classroom to live Marriott projects that they are working on.
Another aspect to the class is utilizing previous class participants who are certified to mentor current participants on project management principles and applications in the Marriott environment. The mentors also assist participants in preparing their application package for submittal to take the PMP examination.
As the year progresses, the participants take courses in how Marriott customizes the project management discipline for their own environment. These courses, which include tools and methodology, are taught by Marriott associates who have expertise in these areas, and normally are PMP certified. Marriott uses a customized version of Andersen Consulting's Method/1 methodology, so the curriculum includes a one-day overview of this methodology.
After the methodology course, the participants take courses from Marriott associates in the standard tool suites used to manage projects at Marriott. These tools are Microsoft Project and ProjectExchange. The class includes a combination of instructional material on Marriott standards as well as exercises and case studies. The methodology and tools courses also include instruction on project costing standards at Marriott.

Additional courses toward the end of the one-year program begin to focus participants on required behavioral skills for project management. This includes a course on humor in the workplace and presentation and writing skills. During the presentation portion of the class, students are videotaped and evaluated on their skills as presenters. The behavioral skills workshop is a three-day course that consolidates a number of these behavioral skills, including conflict resolution, negotiation, risk and change effectiveness on projects.
Lastly, participants take a two-day leadership course, in which participants learn the different styles of leadership and how to utilize various approaches to leadership depending on the project situation. Although Marriott realizes leadership is not a completely "taught" discipline, this course is offered to begin the awareness process with participants in developing emotional intelligence and the leadership styles that achieve project results.
The conclusion of this program is for all participants to sit for the PMP certification examination. Deadlines are set in June of each year for participants to submit their certification packages to the Project Management Institute (PMI), and a deadline is also set (usually around September) for sitting for the examination. If a participant does not pass the examination the first time, he or she is required to retake the examination again as soon as PMI® standards allow. (See Exhibit 2 for process illustration.)
Rewards and Recognition
The program is wrapped up in a celebration that all Marriott Information Resources senior leadership attends to congratulate the participants on successful completion of the program. The celebration includes an awards ceremony and presentation of a monetary bonus to all participants who have completed the program and passed the examination by the end of the program year. Following the program, Marriott attempts to place all participants in a project management leadership role somewhere in the organization. Newly certified PMPs are also asked to volunteer to assist the following year's leadership program participants in the form of a mentor for study groups and to assist in completing and submitting applications for PMP certification.
Success Statistics
Now ready to approach its third year, the Project Management Leadership Program at Marriott International has been a significant success story. Marriott now has in excess of 45 PMPs, and the project management discipline is a respected and much in demand career path! Of the 45+ certified associates, 39 were participants in the Project Management Leadership Program. The remaining Marriott PMPs are a combination of associates who completed the examination through self-study or were hired into the company already having become PMP certified.
While some companies may be concerned that associates will leave the company after a large monetary commitment has been invested in associate training, Marriott has performed an analysis on the percentage of associates who have stayed with the company who have completed this program. Exhibit 3 illustrates that Marriott has 100% retention of all associates who completed the Project Management Leadership Program to date. Marriott also has three associates who have not yet passed their certification examination. However, these participants are expected to retake the examination at some point in the near future.
Continuing Education
After Marriott program participants complete the leadership program, it is essential that they continue to grow their project management skills, from multiple perspectives, including academic, industry and hands-on experiences. While the hands-on experiences can be fulfilled with on the job exposure to projects of increasing size, complexity and scope, participants must also stay diversified on industry updates in the discipline of project management.
Part of this will be completed by fulfilling recertification requirements for the PMP certification renewal, which occurs in three-year cycles. However, Marriott International has opened up other avenues for certified project managers to continue their education in project management. Just this past year, Marriott approved the George Washington University Project Management Masters Certificate Program to be reimbursed through Marriott's Tuition Reimbursement program. The program includes a variety of project management courses that provide more in-depth study of each discipline than participants of the leadership program received. Sample courses include:

Managing Project in Organizations
Project Leadership, Management and Communications
Quality for Project Managers
Scheduling and Cost Control
Risk Management
Contracting for Project Managers
Project Management Applications
Financial Management for Project Managers
Business Process Analysis Innovation and Redesign
Aligning Project Management with Corporate Strategy
Negotiation Skills for Project Managers
Cost Estimating Process Management
Winning New Business
Negotiation of Commercial Contracts
Federal Contracting Basics
International Project Management
Managing Across Cultures
International Contracting.
The program also allows for two different focuses: general project management or information technology project management. The information technology track includes some additional technical course options other than those named above. This program allows participants the option of taking the required courses in a classroom environment at various locations across the country or online at the participant's own pace. The program requires participants to take seven courses on project management within three years. The individual courses are a combination of readings, seminars, assignments, case studies and a final examination at the end of each course. At this point in time, Marriott has a half dozen certified project managers who are enrolled in this program.
Another program that Marriott has started for program participants is the Marriott International Project Management Special Interest Group. This program includes the participants in the Project Management Leadership Program since its inception and meets on a quarterly basis. The meeting is used as an information sharing forum for all Marriott PMPs. Topics may include lessons learned on projects, discussions on participation at industry and project management conferences, participation in PMI, and other topics on project management methodology and tools.
Lastly, Marriott International has taken a leadership role in the newly formed Hospitality Specific Interest Group within PMI. Participation in this activity has allowed Marriott International project managers to take a leadership role in an international project management organization while leveraging their knowledge in the hospitality industry. It also encourages networking with other project management professionals, so Marriott International project managers are continually sharing and leveraging the knowledge of other project management professionals.
True to its motto, Marriott has found another way to take care of their associates, this time in the widely respected field of project management!
Future
Now entering its third year, the Project Management Leadership Program is expanding outside of the Information Resources department to include other Marriott business units. In fact, of the 26 participants in the 2001 program, eight are Marriott business associates. The integration of this program across Marriott businesses and business units will build stronger alliances within the company and will therefore strengthen the efforts of project work across the company!