NADA PESSOAL
"Já vi grandes equipes de projeto desperdiçarem um tempo precioso com discussões internas. Um membro da equipe pode considerar o feedback produtivo um problema pessoal, em vez de considerá-lo uma oportunidade de melhorar seu trabalho — e isso acaba comprometendo o projeto como um todo. Para manter as coisas sob controle, eles devem ouvir atentamente a posição de cada parte e se concentrar nos comportamentos e fatos, não nas personalidades. Um treinamento de gerenciamento de conflitos também pode ser fornecido à equipe, a fim de prevenir esses comportamentos de antemão".
— Marcelo Creimer, PMP, gerente de projeto de internet das coisas e blockchain, eZly Tecnologia, São Paulo, Brasil
TICAR OS ITENS DA LISTA
"Fazemos malabarismos com muitas coisas quando estamos sob pressão, então pode ser fácil ignorar detalhes antes de enviar o trabalho para revisão interna. Criei uma lista de verificação de produção para garantir a qualidade ao atualizar ou criar uma nova página da web. Os novos membros da equipe devem enviar uma lista de verificação preenchida como parte do processo de produção até que aprendam o básico. E membros da equipe mais experientes podem usá-la como um guia conforme a necessidade".
—Deirdre Spencer, PMP, gerente de projetos sênior, experiência digital, Simpson Strong-Tie, Pleasanton, Califórnia, EUA
MOSTRE SUAS CARTAS
"As equipes de software tendem a cair na armadilha do "mostrar apenas quando estiver pronto". Mas não há erro maior do que construir algo da maneira certa mas que nunca deveria ter sido construído. Ajudei as equipes a quebrarem esse hábito, preparando demonstrações frequentes com as principais partes interessadas como parte do plano. Isso melhora a confiança das partes interessadas e da equipe, destaca as principais dependências e riscos, e ajuda a garantir um feedback oportuno".
—Venkatraman Lakshminarayanan, PMI-ACP, PMI-RMP, PMP, diretor associado, projetos, Cognizant, Abu Dhabi, Emirados Árabes Unidos
UM BEM MAIOR
Muitas vezes, vejo equipes trabalhando em piloto automático, executando tarefas, mas se esquecendo do propósito principal ou do objetivo final. Para manter a consciência em meio à complexidade, tento trazer uma dimensão diferente de propósito para cada reunião de equipe: para quem ou por que estamos trabalhando no pro- jeto, como nos beneficiaremos ou o que podemos aprender com ele. Lembretes de nosso propósito trazem significado ao trabalho e instigam a curiosidade, e dá aos membros da equipe a sensação de que são parte de algo maior".
— Mariana Ladeira de Azevedo, PMP, gerente de pessoas, Avanti E-Commerce, Florianópolis, Brasil
A VOZ DA RAZÃO
"Os membros da equipe podem acabar fazendo pressuposições durante a execução do projeto ou tomar decisões sem antes confirmá-las com o proprietário do produto. Para manter as coisas alinhadas, garanto que a equipe não se esqueça das principais partes interessadas durante nossas sessões de planejamento, e questiono a validação que ocorreu em torno dos principais recursos de desenvolvimento. Começar a discussão definindo e esclarecendo tudo o que é preciso ajuda a garantir que a equipe esteja entregando o valor pretendido e atendendo a todos os requisitos".
— Emily Hannon-Luijbregts, PMP, gerente de projeto, Siemens Digital Industries Software, Breda, Holanda
Todos por um
Construir uma equipe coesa é uma forma de reduzir maus hábitos.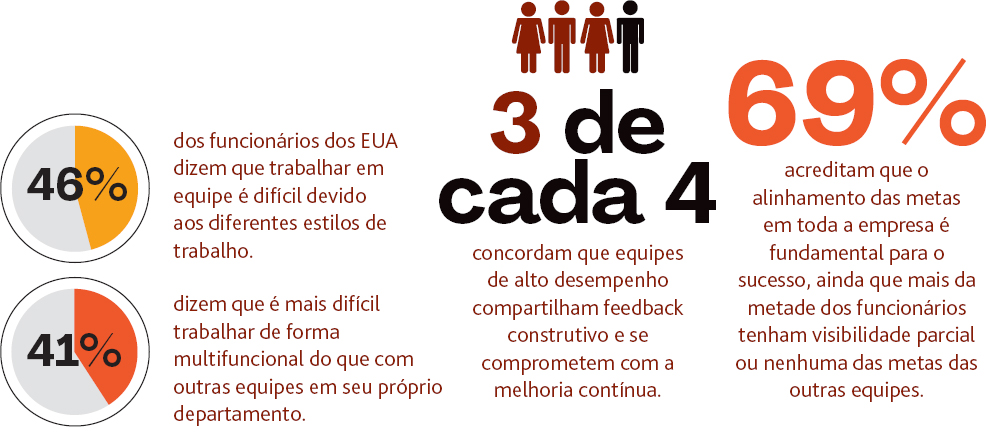 Fonte: The Future of Teamwork: 2020 Reflektive Trends Report, Reflektive,2019
Verificação de habilidades
As cinco principais habilidades essenciais de uma equipe, de acordo com líderes de projetos:
Liderança colaborativa
Empatia pela voz do cliente
Gerenciamento de riscos
Mentalidade inovadora
Metodologia ou estrutura de governança
Fonte: Relatório detalhado Pulse of the Profession®: Equipes do amanhã, hoje, PMI, 2020
VISÃO COMPARTILHADA
"A divisão de trabalho do projeto em grupos pode prejudicar o espírito de equipe. Cada grupo pode se preocupar apenas com o trabalho a que estiver relacionado — por exemplo, o grupo de elétrica está interessado apenas em entregar o escopo da parte elétrica. O gerente de projeto precisa se comunicar de forma eficaz com toda a equipe, compartilhando as preocupações de cada grupo e destacando a importância da sinergia da equipe para a entrega do projeto. Quando cada grupo respeita as funções e responsabilidades dos outros, isso ajuda a minimizar riscos, retrabalho e produtos de baixa qualidade. É como um time de futebol: Se ganham, ganham juntos; se perdem, perdem juntos".
—Ramy Kassem, PMP, qualidade, saúde e segurança ocupacional e auditor ambiental chefe, Vertiv, Melbourne, Austrália
PINTE O QUADRO GERAL
"As equipes podem perder o equilíbrio entre as questões urgentes do dia e a estratégia do produto, bem como a melhoria contínua da equipe. Para recomeçar, crio lembretes para falar sobre a estratégia de produto com a gerência. Lem- brar-nos de nossos objetivos é uma etapa seguinte natural para analisar como melhorar nossos processos e corrigir — em vez de normalizar — quaisquer pontos problemáticos na equipe. Promover uma cultura de desenvolvimento iterativo, não apenas para o produto, mas também para os processos, é fundamental. Precisamos verificar constantemente nossa estrutura para saber se está nos levando na direção que queremos — e fazer ajustes se necessário".
— Maria José Romo Cotera, coordenadora do projeto, LautsprecherTeufel, Berlim, Alemanha