BUSINESSES THROUGHOUT the developed world are increasingly using management consultants, an industry that has been growing at roughly 20 percent per year over the past five years. As a result, project managers can expect to have management consultants on their teams in ever-increasing numbers.
Integrating team members from outside the organization—for example, contractors—has long been part of the project manager's role. Management consultants, however, pose additional challenges, bringing with them corporate cultures and ways of working very different from other members of the in-house team.
Argument For Consultants. Good reasons for using management consultants include:
■ Pre-designed and proven tools and techniques
■ Skills not otherwise available; for example, technical specialists, industry experts
■ Experience on similar projects in other organizations
■ A fresh perspective, independence.
If a project lacks resources or skills in one or more of these areas, adding management consulting expertise may be exactly the ingredient needed to ensure success.
Argument Against Consultants. Adverse stories of working with management consultants abound. The old joke about management consultants borrowing your watch, telling you the time, and then walking off with the watch still lives on in many people's minds. Surveys of attitudes against using consultants regularly quote many, or all, of the following:
■ Cost—Consultants are expensive.
■ "Selling on"—Once with you they never leave.
■ Superficial diagnosis—Consultants offer cookie-cutter solutions based on limited analysis.
■ Competence—Consultants don't possess the competencies they claim.
■ Lack of impartiality—Consultants promote favored solutions, vendors, and so forth.
■ Clients become dependent—Consultants take over running the company.
■ Interference in ongoing management—The consultant's role often expands beyond the project.
■ Admission of failure—Hiring consultants infers that management cannot manage.
■ Adverse internal reactions—In-house staff resent outsiders telling them what to do.
■ Lack of confidentiality—Bringing in consultants is like selling your experience to your competitors.
How Do You Decide? A decision to use consultants begins by asking, "What kind of assistance do we require?" Defining and documenting the objectives and deliverables required from consultants is undoubtedly the single most important step in the commissioning process. The whole process is based on a clear understanding of requirements.
Malcolm Anthony is a director of Project Project a consultancy firm specializing in project management guidance and support to startup and rapidly growing businesses. He spent 11 years with PricewaterhouseCoopers, where he managed large-scale change programs. He was also a co-author of the PwC project management methodology.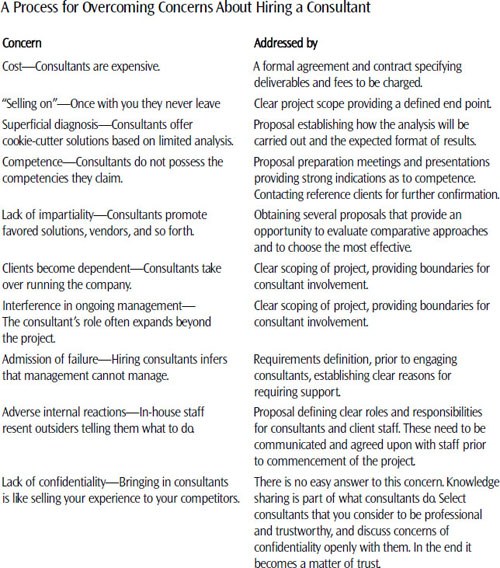 Defining requirements leads to a supplementary question, "Do we need to engage management consultants at all?" There are many forms of temporary resource and contract labor available, much of it highly skilled. Where projects require additional resources to work alongside and be directed by an organization's own staff, then these other options often offer a more cost-effective solution.
If temporary staff members are unable to provide the skills and experience required, and/or an organization's management is inexperienced in the type of project being undertaken, then using management consultants should be considered.
The term management consulting covers a vast range of services. To effectively select a management consulting firm it is necessary to undertake some research to understand this range of services and match it to your needs. A number of information sources are available to help:
■ Management consulting professional associations and trade associations exist in many countries, for example, the Institute of Management Consultants (IMC)
■ Magazines and publications
■ Consulting firms' brochures and promotional information, including websites
■ Other organizations' experience, from networks of affiliated companies, trade associations, chambers of commerce, and so on.
These sources can provide information as to which consulting firms have the expertise and experience you require, which have a track record of successful implementation, and how much they are likely to cost.
Costs will normally be expressed as daily fee rates and can vary widely, depending on size of firm and type of service provided. Larger firms charge higher fees than smaller ones for a given service, and strategy boutiques are more expensive than more operations-focused consultants.
Try to match the size, competence, and reputation of the consultancy firms you invite to propose to your requirements. Smaller pieces of work may not greatly interest major firms, and a smaller, more local supplier may provide a better service at a lower cost. Within larger organizations you may have access to large consulting firms through corporate-level agreements. It is always worth making enquiries of corporate procurement staff in these cases.
Having completed your research, you can assemble a short list of potential consulting firms to propose for your work.
Soliciting Proposals. At this point you should establish a tender, or proposal process, often referred to in the industry as a "beauty parade." This process should be undertaken with a small number of potential consultants, say, three or four, and culminate in written proposals and, ideally, a presentation from each firm being considered.
Consulting firms prepare proposals in competition with other firms as part of their normal sales and business winning process; therefore you should never pay a consulting firm to prepare a proposal.
Set time aside to brief each proposing firm on the background and requirements of the project. Hold open discussions so that ideas can flow both ways, improving the quality of the final proposal and providing new ideas for the project. Be prepared to share as much non-confidential information as possible with prospective firms—the more information they have available the better their proposal should be.
This process takes time but provides a number of benefits:
■ Preparing an Invitation to Tender (ITT, also known as an RFP) document crystallizes requirements.
■ Briefing discussions with consultants contribute new ideas for project execution; these can be advantageous to whoever is selected.
■ Consultant briefings are an opportunity to meet and assess members of the consulting teams.
It is important to insist that members of the project team participate in the proposal process. Be wary of firms that send a "sales team," who then propose a different team to undertake the work.
The written proposal should contain:
■ Consultants' understanding of your requirements
■ A clear statement of the process and plan the consulting team will follow
■ Deliverables and outputs
■ Roles and responsibilities of both the consulting and client teams
■ Costs and fees by stage, including estimates of out-of-pocket expenses
■ Examples of similar work carried out and names of references that you can contact.
Traditionally management consultants have charged time-based fees. There is now an increasing trend toward risk-sharing pricing structures, including fixed price and payments by results. You should consider what type of fee structure best suits your needs in advance of the proposal process and ask consultants to think, and propose, creatively.
Having concluded the proposal process you will have answers to:
■ What exactly will we receive?
■ Are roles and responsibilities clear between consultant and client teams?
■ Can we work with this team (of consultants)?
■ How much will it cost?
The key selection criterion, in my view is, "can we work with this team." Price, process, and so on, is important, but experience says that these elements either fall into place or are resolvable if the chemistry between client and consultant is right. You are now in a position to select your consulting partner.
Bringing the Consultant On Board. After selecting and contracting with the consulting firm, it is important to get the best out of them. Based on personal experience on the other side of the fence—as a consultant—there are a number of ways you can assist consultants in delivering on their proposal:
■ Make staff available to work with consultants, as set out in the proposal.
■ Participate fully in the management and direction of the project. (Many organizations completely abdicate responsibility for projects, with predictable results. Consulting firms normally appoint a partner or senior manager to be responsible for the project; organizations experienced in working with consultants invariably mirror this arrangement.)
■ Support and sponsor the project within the organization and make important decisions in a timely manner.
Even the best consultants can achieve only so much. As in any project, support from the client organization is essential; hence the importance of establishing and agreeing on roles and responsibilities, including project sponsorship, at the proposal stage.
The Value of a Project Debriefing. Project management consulting firms should be learning organizations that welcome all opportunities to learn from experience. Time should be provided in the project plan for consultants and team members to debrief on what went well and what needs to be improved for future projects. Many consulting firms have formal processes for this exercise, often involving a partner or director independent of the engagement to act as an "external" quality assessor.
In the excitement at the conclusion of a project it is easy to omit this last "tidying up" step—this is always a bad decision.
Does the process meet the challenge? Exhibit 1 sets out the concerns and how elements of the process can help overcome them. There are no guarantees that problems will never occur, but a sound procurement process will minimize the risk.
MANAGEMENT CONSULTANTS OFTEN GET bad press. James O'Shea and Charles Madigan wrote Dangerous Company, a best selling book, about just how bad it can get. Despite the disasters—always fun to read about—the vast majority of consulting engagements result in satisfied clients—much less interesting reading. The application of a common-sense approach to retaining and managing consultants will place your organization in the happy majority and keep you out of Dangerous Company II when it is written. ■
Reader Service Number 085