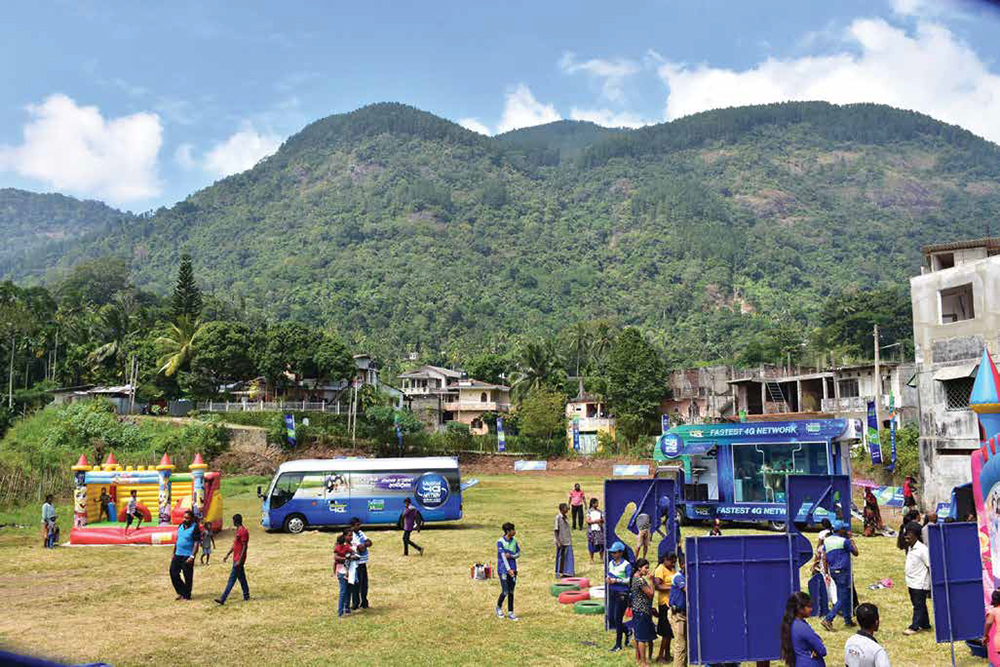 High-speed internet access can be a game-changer for developing countries. And in Sri Lanka, the need was critical. Decades of bitter civil war left the island nation lagging far behind other parts of Asia, particularly in rural areas of Sri Lanka, where nearly 3 in 4 residents lacked access to data.
Mobitel stepped up to spur economic growth and transform lives. In November 2017, the national mobile service provider launched a US$96 million project to connect rural villages and other areas of Sri Lanka to broadband—part of the government's efforts to expand information and communications technology infrastructure nationwide. Project Rural MPowerment promised a win-win: With data services increasingly more dominant than traditional voice services, Mobitel could deliver public good while boosting its bottom line.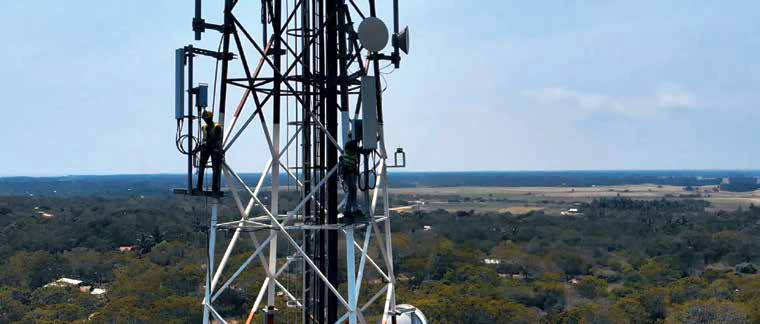 Team members work on connecting a rural base station into the Mobitel Network.
"With this digital transformation taking place all over the world, we consider this a second chance for us," says project sponsor Rasantha Hettithanthrige, senior general manager, engineering and operations, Mobitel, Colombo, Sri Lanka. "If we really leverage that, I think we can be on par with Asian developed or developing countries very soon."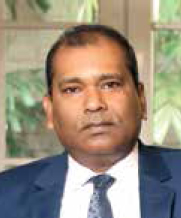 —Rasantha Hettithanthrige, Mobitel, Colombo, Sri Lanka
ELEVATING INNOVATION
Expanding broadband coverage to 91 percent of the population required the team to adapt at every turn—and creatively clear red tape along the way.
The first obstacle: securing enough bandwidth by gaining access to an underutilized frequency band. As a rule of thumb, network signals will reach farther and need fewer base stations (thus, reducing capital outlay) if they use a lower transmission frequency. At the time in Sri Lanka, the lowest government-approved frequency was 900 MHz. To win approval to take over an 850 MHz band for its network, the team lobbied the government by showing how all telecoms, their users and the government itself would benefit.
Solving talent gaps required government intervention, too. With a glut of other network provider projects underway in Sri Lanka at the same time, one of Mobitel's main vendors, China's Huawei Technologies Co. Ltd., encountered a dearth of skilled subcontractors seven months into the project. After government authorities rejected project leaders' requests for traditional alternatives for finding talent, the team turned to Mobitel executives to help solve the talent crunch and avoid protracted delays.
Mobitel's chairman and top management met with the Telecommunications Regulatory Commission of Sri Lanka and other agencies, then approached top government officials to eventually secure approval from the president for hiring 10 subcontractor teams from Bangladesh.
"Without that kind of approach, a project team would never be able to solve that kind of problem," says project director Amila Dissa Aluthwala, PMI-RMP, PMP, senior manager, network implementation, Mobitel, Colombo, Sri Lanka.
REALITY CHECK
With approximately 1,500 sites needed to expand the network, the team had to secure land rights and earn buy-in from rural Sri Lankans, who worried the towers might introduce radiation, increase lightning risks and decrease land values. To address those fears and false assumptions, the team leaned on a complex network of specialists. Project leaders also hired research experts from Sri Lanka to run radiation tests to prove sites wouldn't introduce health risks to communities. The team also sought support from critical government agencies.
When necessary, the team adapted contingency plans with alternate sites to avoid delays that would be caused by lengthy approval processes and external factors like public protests.
"The project team and the planning teams were working in a very close relationship in order to dynamically change the initial plan, so that we could get the best returns for the company," Hettithanthrige says.
Team members often worked with village leaders, such as the chief priests, to ensure information and educational resources were passed on to the community.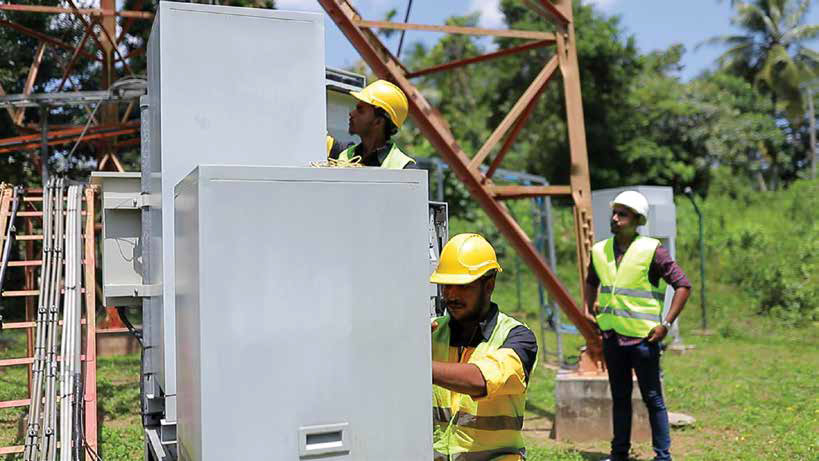 A team conducts an installation.
"We have seen, historically, that when we try to talk to a larger group, things go into an uncontrollable situation sometimes. We learned it's better to talk to the one person who has influence over people," Aluthwala says.
The team was vigilant to protect workers and project sites from deadly threats after bombings killed more than 265 people in April 2019. In response, project leaders assigned one local person to accompany each crew of Bangladesh subcontractors to ensure their safety and social integration as well to maintain uninterrupted project execution. The team also collaborated with local site owners on site security, particularly in the most vulnerable areas, such as in jungles and mountains. To keep the project on track, the team needed to protect supplies and equipment from theft or damage. So local residents kept watch on the sites and enabled Mobitel to create project partners in the process.
Having distributed teams introduced planning and communication risks. So project leaders embraced hybrid approaches, with monthly sprints and standup video conferences replacing daily standup meetings so all team members could participate, regardless of location.
"This was a great learning experience on how to adopt and integrate new concepts from other business areas to fulfill the company's unique business requirements," Aluthwala says.
LASTING CONNECTION
Mobitel wrapped up Project Rural MPowerment six months ahead of schedule—and the timing couldn't have been better. The full broadband expansion was completed in January 2020, just before the global pandemic forced shutdowns and a pivot to all things digital. Thanks to the project, even the most vulnerable parts of Sri Lanka had fast and reliable mobile broadband coverage to handle the transition as work and schools shifted online.
"With COVID there was a sudden, steep increase of 30 percent data growth in Mobitel's network," Hettithanthrige says. "We managed to cater for that demand because we had a freshly deployed network with ample capacity."
Beyond the coronavirus, the impact has been a huge boost for Sri Lanka's future. As of December 2019, Mobitel's year-on-year broadband traffic had increased by 96 percent. In addition, the company recorded double-digit growth over every quarter in broadband revenue in 2019. Going forward, Mobitel is working to expand broadband saturation close to 100 percent and to provide more access to devices that can be used on the network—all of which adds up to a more connected Sri Lanka.
"I'm proud of what we did for the country," Aluthwala says. "When you see the smile of these villagers and how they appreciate the new world they are in now and the future that we can expect from their kids in the next 10 years, it's wonderful." PM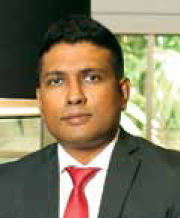 —Amila Dissa Aluthwala, PMI-RMP, PMP, Mobitel, Colombo, Sri Lanka