More effectively identifying, planning for, and responding to common stakeholder change resistance challenges through the use of change management tools may improve project and program outcomes. Specific change management tools can be integrated into the project and program processes. These tools strengthen stakeholder assessment capabilities to build a better communications plan, schedule, budget, and more.
Stakeholder Influence on Project Success
Once a project or program manager has garnered a few years' experience of project or program management, it can become clear how one of the key determining success factors for the project is, in fact, everyone and anyone who can be impacted by the project. Specifically, the stakeholders of the project—team members, customers, and peripheral parties—determine whether the changes introduced will last or not. If the adoption of the project deliverables is poor and perceived unfavorably, the project can be considered a failure. Additionally, if a stakeholder of considerable influence to the effort doesn't "buy in" and support it, and the impact of the stakeholder's negative influence isn't properly calculated and mitigated, this lack of buy in can bring a project to an early close with unrealized benefits. Stakeholder perspectives cast a particular light on the project in which the project outcomes are assessed, and projects live on in infamy as failures or successes depending on a stakeholder experience.
Properly identifying and diagnosing where the project and program issues may potentially come from in the project periphery is arguably critical to the success of any effort. And since many of these issues can come from natural human aversions to change, our level of effectiveness in responding appropriately to the aversion becomes critical.
Typically stakeholders are assessed early in the project when developing a stakeholder management plan, communications plan, schedule, and so forth. A good project or program manager continues to visit these plans to ensure they are accurate and up-to-date throughout the life of the effort.
When building these project and program management tools, the quality and accuracy of the stakeholder "capture" can be increased when using tools from a slightly different practice—change management.
Change Management
Change management is "a comprehensive, cyclic and structured approach for transitioning individuals, groups and organizations from a current state to a future state with intended business benefits" (Project Management Institute, 2013). The study and practice of change management work to productively structure the anticipation of, organization of, and response to individual and group reactions to the introduction of a change to an environment. Given that projects and programs regularly are structured to produce intended changes to an environment, there is clearly overlap and opportunity in leveraging the practice of change management to aid in successful implementation of those intended changes.
The practice (and arguably, the art) of change management focuses on the "human" element to what typically plays out in a project or program. Change management is built on a study of human reactions to change. The study has subsequently identified tools with which to capture the possible reactions, which can then be utilized to better help the project or program manager respond to these reactions. The response can be translated to the project or program management styles, tools, and approaches used to govern the initiative. For example, identifying possible negative resistance to a particular project deliverable may result in an increase in budget to fund mitigative efforts, additional tasks to aid in change adoption, new resources for communication efforts, and so forth.
Change Management Tools
To baseline stakeholder interactions, you may first work with the project team to capture the stakeholders via a brainstorming session. Once you have the initial list, you may then proceed to survey these stakeholders using the support for change instrument.
The Support for Change Instrument
This questionnaire-based instrument assesses the context of the organizational readiness for the change. Responses to each question are ranged 1–7, with 1 being "low" and 7 being "high." An example of these questions is displayed in Exhibit 1.

The outcomes of the scored questionnaires can be used to support acquiring additional resources to address areas identified as requiring additional focus. Risks may be captured for the risk management plan, and communications may be derived from the responses.
Integrating a stakeholder assessment focused on responses to change accomplishes a few key items. For one, the project or program manager, implementer of the change, has effectively solicited input and expressed interest in stakeholder perspective and point of view. Since an underlying assumption in change management is that stakeholders' perspectives can vary widely depending on a variety of factors, a survey provides an opportunity to capture this variance. It also may open up communication channels with stakeholders at risk of feeling marginalized.
Secondly, focusing specifically on the aspects of the change—not only the deliverables—creates a broader discussion of issues that may not have been directly identified as related to resistance to change. To do so, take the questionnaire results and aggregate the outcomes by level of role in the organization (individual contributor, manager, senior executive, finance department, etc.). Then, openly discuss the aggregated outcomes with stakeholders who express interest in participating in discussing and responding to the results. First, review where a consensus exists in responses, and why this consensus may exist. Second, discuss disagreements in the responses, and why these may exist. Solicit input on actionable solutions for each issue and risk that is identified.
As an outcome of this exercise, you should now have an engaged and relatively invested subset of stakeholders. Solicit their interest in continued participation in the identification and solution development for current and future risks and issues that may develop, and organize this communication "channel" to be open to each of them per regular cadence or a particular venue that will support their continued engagement and investment. John Kotter refers to this organized group of stakeholders as the "guiding coalition," another tool that can be utilized (2012, p. 56).
Building a "Guiding Coalition"
The guiding coalition is aptly named because it is a group of influential stakeholders brought into the project's "inner circle" or core team specifically to focus on strengthening any change momentum. This group is sought and engaged to participate in stakeholder planning and management exercises, such as those captured in this article. This group also is put in place to provide a critical feedback loop to the rest of the team from their disparate and varied areas in the organization or environment. Kotter (2012, p. 56) also refers to this group as a "volunteer army." This group is strategically engaged to perpetuate and support the change with various stakeholder groups throughout the organization. They serve as an important link to higher-risk areas identified as needing someone "on the inside" to demonstrate support for the project or program in particular.
The guiding coalition concept is similar to the traditional organization hierarchy but does not honor the classic hierarchy. Members of the guiding coalition are on equal footing, as they each represent an important area of change across the organization, and can thus more openly discuss conceptual barriers and contrive solutions collaboratively.
The Force-Field Analysis
With cross-organizational coalitions meeting specifically to expand and evolve stakeholder engagement, the discussion can turn to tactical discussions of "what if?" and "what may happen." The manager looking to understand how each of the stakeholders and/or stake-holding groups may respond to the changes can leverage the force-field-analysis tool. This assessment is conducted with the aim of understanding what additional planning needs to occur, resources need to be acquired, expectations need to be set, and so forth.
The force-field-analysis tool is a diagram intended to capture the "restraining," or forces working against, and "driving," or forces working for, the changes anticipated through the life of the program/project. The following diagram (Exhibit 2) demonstrates the forward motion of a change, as well as specific counteracting and supporting activities, anticipated stakeholder behaviors, and so forth.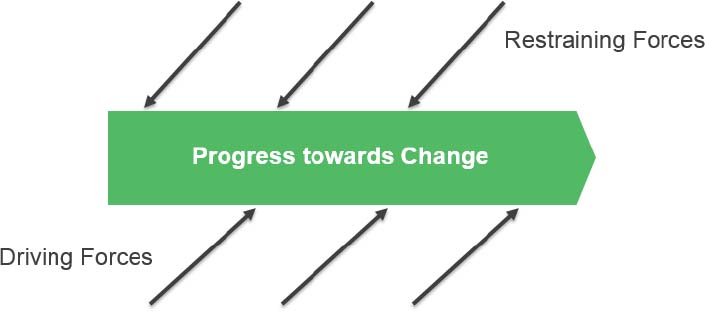 This diagram is effectively used in a group setting with the project team, key stakeholders, and subject-matter experts. The project manager may distribute the diagram and have each team member populate the arrows with descriptions of specific stakeholders (and other external factors) who are supporting the change progress, as well as those who are not. Then, the manager consolidates the list and opens it up for further additions and adjustments to the contributing group. This additional brainstorming helps increase awareness of all currently identified issues across the team, and can then be pivoted to discuss how best to respond to these stakeholders involved with forces working for and against the anticipated changes.
Outcomes of this tool's use during the planning process of the initiative can assist in populating the stakeholder management plan and the communications management plan, revising the schedule and budget for previously unidentified work as necessary, securing additional sponsor support, etc. An additional stakeholder management benefit is that the exercise itself will help build team collaboration, contribution, and common understanding/language for the road ahead. The team is perhaps the most important group of stakeholders you may have, and investment in team building is vital.
Once the stakeholders' anticipated challenges (and other risks facing the project) have been captured in the force-field diagram, an additional change management tool that can help orient the team to approaching the change resistance is the six methods to manage change captured by Kotter and Schlesinger.
Six Methods to Manage Resistance
Kotter and Schlesinger (1979) proposed a foundational list to organize management of stakeholders according to the stakeholder and situational needs. The list can be leveraged to assign responses and management for each "driving" and "restraining" force captured in the force-field-diagram exercise.
The six methods are as follows:
Education and Communication – When resistance appears to be the result of misinformation or limited communications counteract this by investing heavily in communicating the rationale for change for specific stakeholder populations.
Participation and Involvement – When change resistance appears to be the result of stakeholders feeling marginalized or excluded from the process ("squeaky wheels"), engage stakeholders in the effort as more actively involved participants.
Facilitation and Support – When the change is producing anxiety and uncertainty in stakeholders, increase resources to provide emotional and physical/technical support to aid in the execution of the change.
Negotiation and Agreement – When stakeholders are authoritatively or otherwise empowered to a position of significant influence on project change outcomes, and can cause significant damage to benefits to be realized, this approach favors incentivizing adoption of the change.
Manipulation – Often utilized as a last-resort measure when other measures would be too resource consumptive or counterproductive to outcomes, this method involves intentionally limiting information to some stakeholders.
Explicit and Implicit Coercion – Often also utilized as a last-resort measure when stakes are considerably high and change adoption may threaten organizational survival, and so forth, this approach utilizes threats of undesirable consequences to the resisters.
Determining responses to each anticipated stakeholder or group will help define the project or program staffing, schedule, budget, and communications plan.
Conclusion
Utilizing change management tools and techniques can help a project or program manager more effectively identify, plan, and engage stakeholders. This targeted approach can strengthen stakeholder assessment capabilities to build a better stakeholder management plan, communications plan, schedule, budget, and other project management tools. It can also help build value into the delivery of the changes themselves by strengthening adoption.
There are many change management tools available today, and this subset is one of many combinations. Project and program managers may leverage a plethora of tools that inherently should help them engage stakeholders in more effective ways.
Kotter, J. (2012). Accelerate! Harvard Business Review, 90(11), 44–58.
Kotter, J., & Schlesinger, L. (1979). Choosing strategies for change. Harvard Business Review, 106(14), 45–58.
Maurer, R. (1996). Beyond the walls of resistance. Austin, TX: Bard Books.
Project Management Institute. (2013). Managing change in organizations: A practice guide. Newtown Square, PA: Author.