Contract management becomes strategic for many companies exposed to complex projects. The scope of contract management has strongly evolved in the last ten years. It now becomes more mature and offers a range of processes to be applied during the contract life cycle. Strong synergies exist between project management and contract management where contract managers and project managers need to team up and agree on their respective roles and responsibilities during project implementation. Orange Business Services is engaged in a long-term programme to develop contract management skills and achieve increased performance of the projects.
Keywords: PMBOK® Guide, contract management, project management
INTRODUCTION
A signed customer contract is a must prior to the effective launch of the customer project in order to efficiently manage the technical, operational, and financial aspects of the project. Contract management is becoming critical within many companies who consider this activity as strategic for the performance of their activity and the quality of their relations with their main customers and suppliers. Contract management needs to be more and more considered as a key component of project management.
HOW TO DEFINE CONTRACT MANAGEMENT PARAMETERS?
Contract management can be considered as a relatively new activity (IACCM founded in 1999 versus PMI founded in 1969).
As seen in A Guide to the Project Management Body of Knowledge (PMBOK® Guide) – Fifth Edition, contract management is part of procurement management, where main activities concern the development and administration of contracts to purchase products and services. Contract management is cited only once in the PMBOK® Guide and is mainly considered in the way the buyer manages his seller (PMI, 2013). This definition is in line with Wikipedia definition, however, it is not restricted to vendor management. Contract management includes negotiating the terms and conditions in contracts and ensuring compliance with the terms and conditions, as well as documenting and agreeing on any changes or amendments that may arise during its implementation or execution.
Aberdeen Group has gone a little farther with the association of contract management with risk and profitability, while describing contract management as the process of systematically and efficiently managing contract creation, execution, and analysis for the purpose of maximizing financial and operational performance and minimizing risk.
Gregory Leveau, in his book on contract management (2013), brings his own definition where contract management consists of developing and controlling the life cycle of a contract from initialization to its termination through the systematic and methodic coordination of resources and processes useful for risk control and financial optimization.
FUNDAMENTALS IN CONTRACT MANAGEMENT
Similar to a project, a contract has a life cycle (Exhibit 1).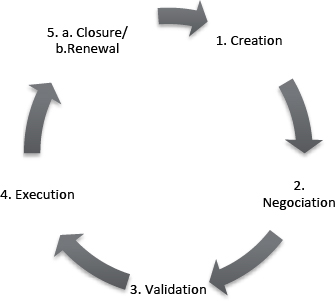 The main processes are the following:
- Contract awareness: consists of making an explanatory summary of the main clauses of the contract. The added value of this summary is to interpret and make the contract explicit in simple and intelligible terms, and make it accessible to non-jurist stakeholders
- Negotiation: this is a day-to-day activity of the contract manager which supposes an uphill preparation, an extensive search of mutual interests, a proactive and creative mutual approach, and the elaboration of objective criteria, as well as promoting a respectful relationship
- Risk management: this is rather similar to project risk management, whose ultimate artefact is the risk register with more or less the same attributes as those elaborated upon in the PMBOK® Guide.
- Conflict resolution: this is an essential process to be mastered when the relationship between the customer and the project becomes too emotional. Nonviolent approaches are potential techniques to be developed here
Other useful processes may encompass:
- communication
- deliverables management
- critical data management (personal, commercial, in confidence, intellectual property, etc.)
- commercial levers
- contract closure
THE BENEFITS OF CONTRACT MANAGEMENT FOR ORANGE BUSINESS SERVICES
The benefits of contract management for Orange Business Services can be seen from three different perspectives.
From the customer perspective, the benefit will be to ensure the use of a professional approach to contract management that will even better facilitated if the customer has a contract manager as part of its project team. The contract management activities will be explained to the customer in order to reassure him or her on the mutual benefits (win-win ambition) expected from the approach.
From the Orange Business Services perspective, the benefits may appear even more clearly by deriving the benefits from risk management and profitability enhancement and providing a clear ROI on the cost versus benefit of the contract management activities. It is also expected to bring benefits in the realm of customer relationships and ensure that, even in case of project difficulties, the customer relationship's quality preservation is a clear target as well as the avoidance of conflict escalation.
From the Orange Business Services' people perspective, the benefit is to be seen in skills enhancement and in providing tools and techniques to the project manager to better manage projects and customer relationships. There is also the ambition to provide recognition through an official, external certification. This brings potential career path evolution.
IMPACT ON ORANGE BUSINESS SERVICES' PROJECT MANAGEMENT SYNERGY METHODOLOGY
The presentation is based on further developments of the Synergy Methodology which was introduced at the PMI® Global Congress 2015—EMEA in London (Bellec & Mead, 2015).
The main point is to try and align the respective life cycles of both the contract and the project. When referring to Figure 1, the project life cycle is generally aligned as follows, in Table 1:
Project
Contract
Opportunity
5b-Renewal
2-Negotiation
Initiation
3-Validation
Planning
4-Execution
Executing
 
Monitoring and Control
 
Closing
5a-Closure
It should be noted that both life cycles are not strictly aligned, given the fact that most of the project activities are performed during the execution part of the contract.
In terms of processes, a difference should be made between the technical project management Knowledge Areas and the Leadership Knowledge Areas.
The technical processes are rather similar, given the fact that contract management may naturally benefit from well-structured and mature processes such as: risk management, communications, stakeholders, and so forth. The Leadership Knowledge Areas seem to be much more emphasized in contract management. Indeed, the major goal of contract management is to keep a constructive and valuable relationship with the customer in all circumstances.
THE CONTRACT MANAGEMENT PROGRAMME IMPLEMENTATION FOR ORANGE BUSINESS SERVICES FRANCE
The contract management programme was launched within Orange Business Service at the end of 2013. The purpose was to propose to the project management community in France, a scalable approach for contract management skills from foundation to advanced, finally reaching certification for project managers exposed to the most complex projects.
The achievement after nearly 30 months is the training modules design for each of the three levels of competence and the training of more than 150 project managers in the French project entity. At the end of 2015, a request for proposals (RFP) was launched to select a training and certification provider in contract management based on a mix of external and internal training programmes. It is scheduled to achieve the certification of a minimum of ten contract managers by end 2016. The certification is open to different job roles in the organisation such as project directors, legal advisors, risk and financial managers, and account service managers.
In terms of lessons learnt, it might be considered to take different approaches to develop contract management within organisations. Even if some organisations decided to position contract management as a job role within the legal department, the choice of Orange Business Services is not to create, at this stage, a dedicated job role, but rather to identify a mission statement and give the possibility to different job roles as based on the required contract manager profile, the project, and the customer profile.
It also needs to be considered that the maturity of most organisations towards contract management is still quite low and that the maturing process may take some years in order to be considered at the proper strategic level.
CONCLUSION
Contract management is the next challenge for most project managers, as it emphasises, not only on traditional technical skills, but also leadership skills. The value of a contract manager is not only seen in keeping the project economically on track, but also in its role as a key partner to the project manager to professionally master leadership skills (PMI, 2015).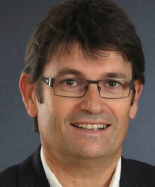 Martial Bellec, PMP, PgMP, is head of the project and program management center of excellence (CoE) within Orange Business Services. As an internal PMI Registered Education Provider, this mission consists of developing the skills of project and programme practitioners by means of reference materials according to job roles, related training, and certifications, as well as coaching, assessment, and auditing services. Mr. Bellec co-authored the best-seller, PgMP® Exam Preparation. He is the vice president of the PMI France Chapter and has volunteered and spoken at several conferences and events in France and Europe.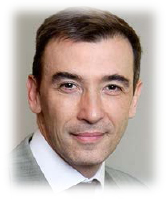 Olivier Cottard, PMP, has more than 15 years of experience in project management in the area of telecom. Today, he is heading the global project and programme management practice within Orange Business Services for a community of more than 1,200 project and programme managers. The mission of the project and programme management practice is to enhance the skills and competence of the community, to provide best-in-class project management tools to allow increased efficiency and performance, as well as customer satisfaction, and to capitalise on knowledge and best practices through various transversal communication initiative
Martial Bellec
Olivier Cottard

|

Business Services

|

projectmanagement.com martialbellec