When COVID-19 rocked the global workforce, the reaction seemed obvious: send employees home, if possible. But a return to the office has been far more fitful. In China, real estate firm Cushman & Wakefield helped 10,000 organizations return to work in one month alone, then gathered lessons learned from those returns to develop a working laboratory called the Six Feet Office. In July, Google told employees they could remain at home through mid-2021. Twitter made its remote-work policy permanent for some team members.
Still, 52 percent of U.S. organizations expected less than half of employees would be remote as of September, according to a CNBC Technology Executive Council survey. And the return has sparked an onslaught of projects—to design, build, reconfigure and recalculate office space. "The timing might seem sort of counterintuitive," Steven Quick, CEO of design-build firm Unispace, told Fast Company. "But I think we're going to see a lot of companies looking for answers on: What does the post-COVID workplace look like?"
In the short term, organizations have embraced social-distancing stickers on the floors, caution tape across desks and plastic barriers aplenty. But over the long haul, more sophisticated solutions are necessary. Here's a look at what's happening.
SOM's Porch project slated for Chicago, Illinois, USA
Take it Outside
Since the pandemic began, there's been an uptick in commercial projects incorporating outdoor space. The benefits of natural light and fresh air have only been magnified by organizations looking to limit transmission risks in their workspaces.
A US$95 million project to build a county administration building and emergency operations center in Martinez, California, USA includes a conference room that can seat 175—and a back wall that can be lifted entirely so that the hybrid indoor-outdoor, shaded area has space for either 100 additional participants or greater social distancing.
In Istanbul, Turkey, architecture firm Salon Alper Derinbogaz revealed plans in August for "pandemic resistant" offices at the Yildiz Technical University. The single-story offices will be connected by open-air and semi-covered walkways and dotted with terraces for outdoor meetings.
In Wuhan, China, design firm SOM is fielding a client request to add more terraces and sky gardens to a proposed office project. Its Porch project, slated to be complete next year in Chicago, Illinois, USA, pushes this idea to new limits, with a five-story, 6,000-square-foot (557-square-meter) wraparound terrace that can be enclosed in winter with retractable doors.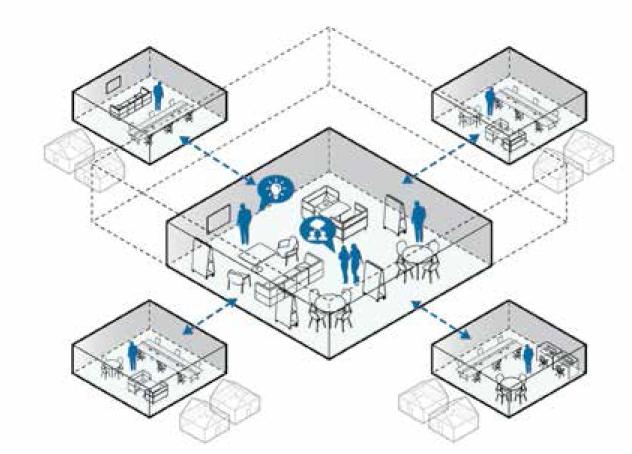 Make it Social
Increasing collaboration and engagement were part of what drove the global trend toward open floor plans in offices. But one of the biggest challenges that lies ahead for project leaders is "fulfilling the goal of bringing people together, but keeping people physically safe," says Blaine Brownell, director of the school of architecture at the University of North Carolina at Charlotte, Charlotte, North Carolina, USA.
The solution might be keeping employees remote when they're working on solo activities and reserving the office only for team activities. For its Working from Home, Working from Work project, a team from architecture firm Woods Bagot developed four models for future clients looking to rethink work: from replacing a central office with smaller satellite offices to eliminating desks almost entirely to create more club-like interiors decked out with sofas and café tables with chairs.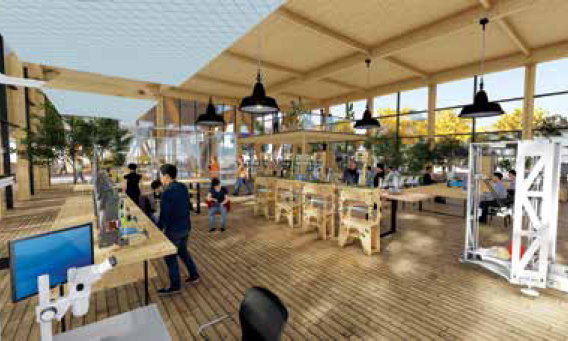 Home Improvement
Open office doors might not mean business as usual, with a five-day workweek. Seventy-seven percent of human resources executives expect the trend toward remote work to continue, even a full year after the pandemic subsides, according to a survey of mostly large U.S. companies published this year by the Conference Board. Employees who intend to work from home at least part-time—and made do with makeshift desks and bathroom conference calls during shelter-in-place—might drive demand for stronger work amenities in residential development projects.
The Self-Sufficient City, for example, is a proposed project near Beijing, China. The scope involves designing and building a mixed-use community that can guard against disruption to daily life "even in moments of confinement." Apartments would be equipped with sizable terraces and 5G network capabilities, roofs will sport solar panels for on-site energy production and a common coworking space will have 3D printers and rapid prototyping machines. "The entire team worked from home, and we decided to include all those aspects that could make our lives better," project lead Honorata Grzesikowska told ArchDaily.