Introduction
In the 80's our organization had spread across the world and inevitably we ran into some problems on project margins, our ability to deliver on time and to the expected budget. We set a goal to increase project management performance, consistency and financials. A global Program Management Office (PMO) was established to provide central management and mentorship.
This paper explains HP Services highly successful Program Management Office and Project Management Profession Program. The HP Services PMO structure supports an organization of 65,000 professionals and over 3,000 project managers in 160 countries with offices at worldwide, regional and country levels. Our PMO goals are to deliver a quality solution, provide business value, and meet customer needs. This is achieved through three focus areas - health of the project portfolio, processes & methodology, and project management development.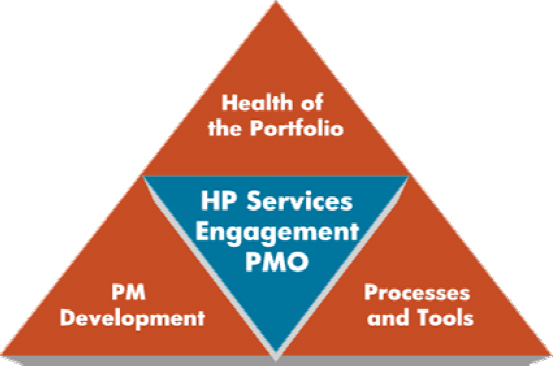 The consistent approach brought by the PMO structure enhances our ability to manage global projects and to get qualified project managers where and when we need them. It ensures that the highest standards are maintained and improves both the effective management of our projects and customer satisfaction. Our project performance has improved to 70 percent of our projects within or under budget compared to an industry average of 50 percent.
The PMO provides the infrastructure to support our project managers in the following:
PM methods and practices are embedded in overall business processes;
Business and technical systems support project work;
Methods and tools support both project management practices and solution delivery;
Comprehensive training program that covers both "hard" and "soft" skills;
Rewards and recognition that drive the right behavior.
The major reason the PMO is successful in HP Services is because of the value that it brings to the business. This value is exhibited by:
Effective and profitable management of complex projects;
Comprehensive risk management practices;
A balance between business and technical management;
Discipline with predictable results;
Global consistency and capability allowing for speed of execution.
These result in:
More effective use of resources;
Higher customer satisfaction;
Increased employee satisfaction;
Significant competitive advantage.
Health of Portfolio
Health of the portfolio considers the status and success of projects. Portfolio tracking systems enable us to keep status on more than 2,700 active customer projects around the world. Some of the items included in a typical PMO scorecard include customer satisfaction, portfolio financial performance, progress against milestones, utilization of resources, employee satisfaction, time to recover troubled projects, effectiveness of knowledge sharing and contributions, and student attendance and training costs.
The goal is to improve portfolio status year over year. PMO activities within this area include:
Supporting project start-up activity;
Reviewing and auditing projects regularly;
Implementing review and approval process;
Managing escalations;
Troubleshooting projects in difficulty.
Opportunities are tracked and reviewed prior to proposing them to customers to ensure we are able to deliver a quality solution that will meet our customers' needs and return a fair profit to HP. These reviews pay particular attention to risk management.
Project managers maintain comprehensive monthly reports for their projects. Summary data is gathered regularly according to a published schedule on each project and stored on a corporate database. Standard and tailored status reports provide business unit managers with the information necessary to monitor individual projects as well as the overall health of the portfolio.
Implementation project reviews are completed on a regular basis at the country, region and worldwide levels to ensure that projects are on track and the appropriate level of management is involved. These reviews also serve as a learning process as we apply knowledge gained from one project to another. If projects do run into trouble, highly experienced, senior level PMs are dispatched to help manage the recovery.
PM Processes and Methodology
HP Services uses rigorous processes to manage our programs. These include project management processes, an integrated methodology, policies and standards, and tools. The PMO is also responsible for defining and maintaining policies, procedures and other business practices relating to project management.
Customer Engagement Roadmap
The process of bidding, winning, and delivering customer projects is a complex, cross-functional effort that requires a disciplined approach. Using a disciplined approach increases the bid/win rate and reduces inefficiencies in the bid process. In delivery, this approach improves communication and professionalism and has proven to increase profits and customer satisfaction. Absence of such a disciplined approach can lead to loss of project control, diminished margin, and customer dissatisfaction. The Customer Engagement Roadmap (Exhibit 2) is the disciplined approach that is used at HP. HP Services' Customer Engagement Roadmap is a project life cycle architecture that defines the major business activities required to successfully pursue a customer engagement. It provides a process to determine scope, evaluate risk and price in order to win and succeed over a project lifetime. Key engagement deliverables and reviews are detailed in the roadmap.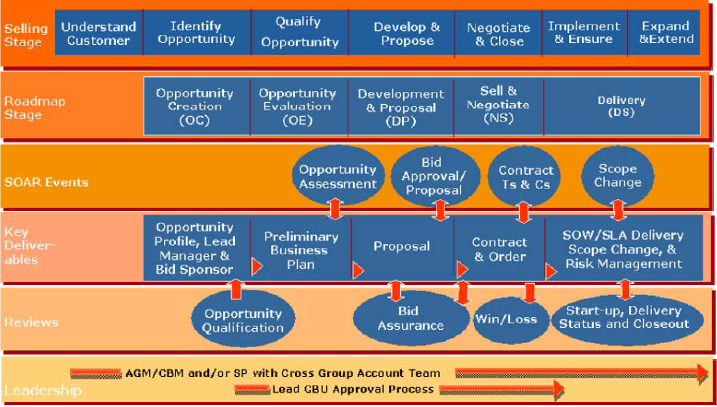 This Roadmap helps to ensure that both HP and our customers make the best investments. It requires early involvement by experienced project managers to ensure that the proper resources and management controls are deployed successfully. The Customer Engagement Roadmap incorporates the Solution Opportunity Approval and Review (SOAR) process that facilitates approval of new business and implementation progress reviews to ensure quality and resolve problems quickly.
The Customer Engagement Roadmap consists of six stages which represent an internal view of the process required to successfully create, evaluate, develop and propose, negotiate, implement, and support projects. Clearly defined, mandatory decision points mark the end of each Roadmap stage.
Opportunity Creation Stage
The Opportunity Creation stage identifies programs and projects to be evaluated. The account team identifies business needs or problems at the customer that may be opportunities for HP. An Opportunity Qualification Review is held during this stage to determine whether or not this is a reasonable opportunity to pursue.
Opportunity Evaluation Stage
The Opportunity Evaluation stage is where a rapid evaluation is made to assess the size of the effort and the expected returns or risks associated with winning or losing the bid. A decision is made in this stage whether to commit money and resources for proposal development.
Development & Proposal Stage
In the Development and Proposal stage the team develops and submits a proposed solution that will address the customer's needs. The solution should be one that meets the customer's business requirement and budget and which HP can deliver profitably.
Sell & Negotiation Stage
In the Sell & Negotiation stage the team addresses the customer's reaction to the proposal and works with the customer to obtain a mutually agreeable signed contract.
Delivery Stage
In the Delivery stage the solution is implemented and due diligence activities are completed. This stage also covers the period after a solution has been implemented and transition activities have been completed. During this period, the account manager and the team support the customer by managing ongoing operations, ensuring customer satisfaction with the results, and by identifying with the customer new opportunities.
HP Global Method
The collective knowledge and experience of HP Services is accessible in our methodology - HP Global Method. This integrated set of methodologies enables us to optimize our efficiency in delivering value to our customers. HP Global Method (Exhibit 3) uses industry best practices with the added value of our experience implemented through web-based technology to allow quick updates and access throughout the world. An extensive set of information is available to support the wide variety of projects delivered by HP Services. The methodology outlines procedures for establishing goals and budgets, managing cost, risk, scheduling and quality, assigning resources, procuring third-party products, and managing the relationship with sub-contractors. It provides guidelines and techniques for planning, scheduling, tracking and reporting on the work of the project team. It incorporates a comprehensive set of delivery methodologies to match the business need. The methodology includes knowledge management databases such as lessons learned and project experience from prior engagements that our project managers can use in managing their projects.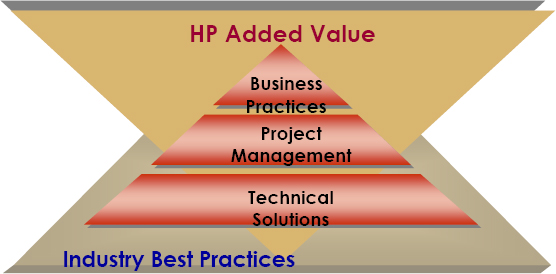 PM Development
Project management is a core skill and competency for HP Services. Strong project managers are key ingredients to providing successful solutions to our customers. Our project managers are seasoned professionals with broad and deep experience in solutions, as well as managing projects. In order to develop the best project managers possible HP Services has implemented a Project Management Profession program that addresses a broad spectrum of development activities.
The vision of the Project Management Profession in HP Services is to increase marketplace visibility of the high quality of project management skills we provide our customers and be recognized as THE leaders in the IT industry. Our objectives are to:
Encourage professional growth and development
Foster a sense of community and an Esprit de Corps
Build a powerful knowledge culture where knowledge is shared on a global basis
The HP Services PM Profession Council, consisting of members from each region and business unit, was established to set the direction, communicate, and implement programs related to the PM Profession. The objective of the council is to support and encourage project managers in their professional development to improve service to our customers. The PM Profession focus areas are:
PM Development Program
PM Certification
Community and Culture
Recognition
Knowledge Sharing
Professional Organization participation and Leadership
PM Development Program
Our award winning Project Management Development Program provides the training our project managers need to learn the latest techniques in all aspects of project management. As exhibit 4 depicts it is organized by project management foundation courses, courses beyond the foundation that address advanced PM topics, courses specific to HP Services practices, and professional skills training. The curriculum consists of over 35 courses taught in 16 languages around the world. The program won an Excellence Award in 2002 for career development in a global environment from ASTD, the world's leading resource on workplace learning and performance issues.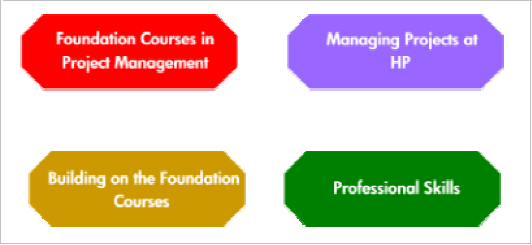 The foundation courses cover project leadership, management, communication, risk management, contracting, scheduling & cost control, and quality. The courses are based on Project Management Institute's (PMI®) Guide to the Project Management Body of Knowledge (PMBOK® Guide). The advanced courses cover topics like global project management and recovering troubled projects. Specialized courses on HP internal topics include our project methodology and essential business and financial management skills. Professional skills courses such as effective presentation and negotiation skills round out the curriculum. Over 5,000 students complete courses in the Project Management curriculum each year.
Even the most experienced project managers continue to take courses to strengthen their knowledge and skills. HP Services conducts an intensive weeklong training called Project Management University (PMU) in each region -Americas, Asia/Pacific, Europe, and Japan. Twenty-five PMUs have been run since the first one in 1998 with up to 150 project managers attend each. These events provide project managers with an opportunity to devote concentrated time to study and to exchange knowledge and ideas with other HP Services project managers from around the world. This event won an ASTD Excellence Award for career development, organizational learning and workplace learning and development in 2003.
All courses taught in HP's PM curriculum are registered in PMI's Registered Education Provider (REP) program to ensure a consistent basis and oversight.
PM Certification
We endorse the Project Management Professional (PMP®) Certification from the Project Management Institute as the PM Certification program for HP Services. HP has a well-established program to encourage and support our project managers to achieve certification and to maintain it through continuous development. We have nearly 1,500 individuals in HP Services who have earned the prestigious PMP (Project Management Professional) certification. We are averaging 40 new PMPs each month. This certification verifies both the knowledge and experience of project managers through education and experience qualifications and a comprehensive exam.
A PMP Certification web site provides helpful information from HP PMPs about earning the certification. A special weeklong training exam preparation session has been developed to help those who have difficulty getting away from their busy customer engagements. These sessions generally involve 20 to 25 PMs who take the exam after an intensive week of learning. A multitude of internally sponsored events provide opportunities for PMPs to help maintain their certification.
PM Community and Culture
Examples of PM community and culture at HP Services include networking among project managers, mentoring programs, and the Project Management Competency Circle. One of the major objectives and benefits of the Project Management University is the networking that takes place among the attendees. Specific activities have been designed to encourage and enable networking throughout the weeklong event. Mentoring programs are implemented locally on a regional basis to provide the most effective learning environment. The Project Management Competency Circle is a subscription newsletter with topics of interest to the PM community. An average of four memos are sent each month to almost 5,000 subscribers on topics such as PM development, methodology updates, and HP project management in the news.
Project Manager Recognition
To encourage high performance, project management recognition programs are implemented in each region. Incentive programs recognize the importance of project managers and core team members as critical to HP's success by providing rewards for successful project management. In addition these programs are designed to retain and attract qualified individuals.
A project management career path with expectations for each level provides a growth path to the most senior PM level.
Knowledge Sharing
Knowledge sharing consists of lessons learned, project experience, conference papers & presentations, and internal PM forums. Effective communication is a key success factor in our knowledge management program. Employees need to be able to contact others as well as participate in groups where they have knowledge to share. In a global organization the size of HP knowing whom to contact can be a key success factor to global projects. Key contact lists are maintained within the knowledge network to provide those contacts based on the topic area needed. Lessons learned and project experiences are stored on internal web sites and are accessible worldwide. PM forums are sponsored on a regional basis with internal and external presenters speaking on the latest project management topics. HP Services has been one of the top companies presenting at the PMI Global Congresses in North America and Europe over the last several years with 27 papers on various project management topics.
Professional Association Participation and Leadership
As a way to give back to the PM community we encourage all HP Services project managers to participate in PMI and other project management professional associations through chapter leadership and volunteering to serve on committees. HP employees participate on a number of PMI boards and committees including the Global Accreditation Center Board, Research Program Membership Advisory Group, OPM3 committee, Global Congress Europe committee, PMBOK® Guide 2000 review, and PMBOK® Guide 2004 update team. Many HP employees hold leadership positions in PMI Chapters and SIGs throughout the world.
HP has been a sponsor at the annual PMI Global Congresses in North America and Europe for the last 3 years.
Conclusion
The HP Services PMO provides significant value to the business and to project managers. The PMO's leadership in helping to secure new business and support on-going business helps ensures that we deliver a high quality service at a competitive price to our customers. Processes, methodologies and tools support both the business by providing what is needed to manage our customer engagements and project managers by giving them the tools they need to do their job effectively. The project management profession program provides the developmental activities that our project managers need to effectively manage projects and to progress in their careers.