PROXIMITY EVOKED PERIL.
Density brought danger, if not death. As the pandemic gripped the globe, the hallmarks of urban living—public transportation, high-rises with shared amenities, crowded shopping centers and high-use infrastructure—flipped from pro to con. It wasn't long before news stories speculated about the looming death of the city.
But—just as they have after past epidemics, economic crises and natural disasters—cities will survive. In fact, they may thrive, as project teams lean into this once-in-a-century opportunity to reimagine what it means to build, run and reside in an urban center. As the demands of a post-pandemic way of living start to take shape, project leaders explain which emerging trends are driving innovative urban solutions.
TREND WATCH
The 15-Minute Decentralized City
The concept is simple enough: Imagine everything city dwellers could need—grocery store, school, office space, shopping center—all within just 15 minutes of where they live. Instead of clumping functions into homogenous districts that require residents to travel from end to end to fulfill work or shopping or child care needs, the city would be made of up of vibrant, varied neighborhoods that satisfy everything close to home.
New York City's Hudson Yards—a 2020 Most Influential Projects selection—was one of the first and largest developments to bring to life the live-work-play concept. But a swarm of projects have followed. From Paris to Shanghai, project teams are working to turn the idea of a "15-minute city" into reality—and to realize the benefits of lower emissions, less noise and air pollution, and a greater sense of community.
"The 15-minute city is a positive response to the trend of a simple, healthy and low-carbon lifestyle," says Jun Huang, a partner in architecture and planning firm Wei Yang & Partners, London. The firm has worked on such projects, which it calls 21st Century Garden City Projects, in both the United Kingdom and China.

—Jun Huang, Wei Yang & Partners, London
In China, Wei Yang & Partners is hardly the only firm thinking big by planning small. For a pilot project in Shanghai, the municipal government published planning guidance in mid-2016 that ranged from benchmarks for outdoor spaces so that children and the elderly could gather to the proximity of community facilities. The pilot was dubbed a success and has driven investments in similar projects across the country.
The government has announced a project to build a city of 5 million residents about 80 miles (129 kilometers) southwest of Beijing, called Xiong'an New Area. A proposal released in September for the new urban center has all the hallmarks of a 15-minute city: courtyards dotted through the city blocks, rooftop gardens and on-site greenhouses, schools and shops adjacent to residences, and even manufacturing spaces threaded throughout. But the self-sufficiency that's woven into the project's very design also makes it easier for city residents to isolate during an outbreak and to bend the curve of a contagion, if a future pandemic strikes.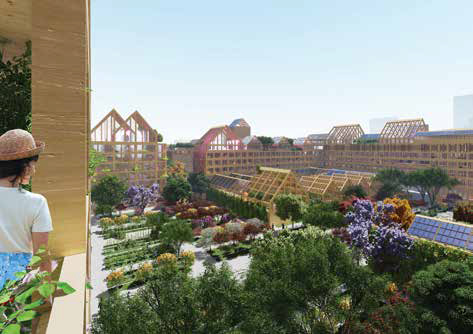 IMAGES COURTESY OF GUALLART ARCHITECTS (XIONG'AN NEW AREA) AND RH+ ARCHITECTURE (MINIMES BARRACKS)
Here and below left, renderings of Xiong'an New Area. Below right, a view of Paris' Minimes barracks project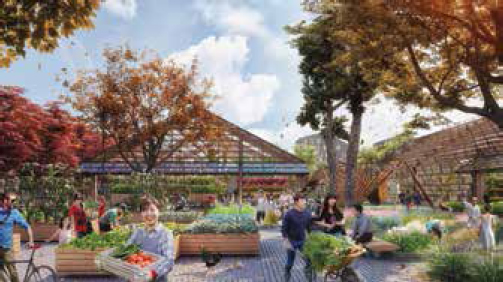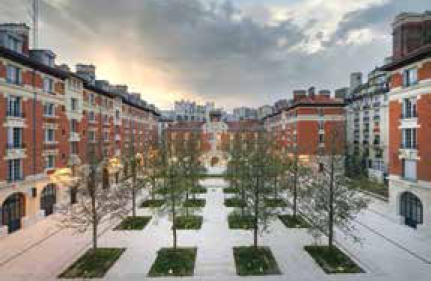 In Paris, Mayor Anne Hidalgo made the 15-minute city a central part of her 2020 reelection campaign. Hidalgo's plans include a bike path on every street and bridge in the city and the removal of 60,000 on-street parking spaces.
Paris' Minimes barracks are a clear example of the type of mixed-use development that would make micro cities hum. A €12.3 million project converted the barracks into a multiuse complex with 70 public housing apartments, offices, a day care facility, a health clinic and a cafe. Just down the road, the Place de la Bastille has been transformed from a traffic-choked throughway to a square that prioritizes pedestrians and bikers—part of a city-funded €300 million program to rethink seven major public squares. And while the government's focus on dedicated bike routes stretches back to 2015, with a €150 million program to more than double Paris' bike lanes, the pandemic dramatically accelerated the shift in infrastructure design. As of June 2020, the city had added 50 kilometers (31 miles) of "corona pistes" (corona lanes).
The shift to a rebalanced city makes the spaces more livable in the here and now, while also blunting the impact of any future lockdown or pandemic, Huang says. That's just one of the reasons that many global mayors who attended the G40 Cities Climate Leadership Group named 15-minute cities as one key to their post-pandemic recovery roadmap.
In Italy, leaders in Milan announced in July an initiative aiming to make all essential services, including healthcare, available within walking distance for all residents. And to fend off a surge in car travel once the pandemic is over, the city plans to turn 35 kilometers (22 miles) of its streets over to pedestrian and bike traffic. A similar program is underway in Barcelona, Spain, where the government is converting 21 intersections into public squares and micro-parks over the next decade.
Even U.S. cities that rely heavily on car transportation, such as Houston, are flirting with the idea of deconstructing the typical downtown area. In August, the city government announced a Walkable Places pilot program in three neighborhoods near the city center.
"The pandemic and its lockdowns have forced us to rethink the essence of healthy city living," Huang says. He points to how rebalanced, walkable spaces can accelerate those positive changes in urban design. "It reduces the need for car-dependence and incorporates more nature into man-made environments, both of which make cities more resilient to health and climate shocks."
TREND WATCH
Main Street, at the Tap of an App
The closing of brick-and-mortar retail stores has been a theme for years, but COVID-19 delivered a fatal blow to many shopping centers and eateries already teetering on the edge. Still, others fought for survival by launching pivot projects aimed at satisfying the strong demand for convenient, fast offerings with minimal human contact. Instead of catering to the in-person customer, these "ghost kitchens" and "dark stores" are designed as sites to satisfy digital orders—and could reshape urban commerce for years to come.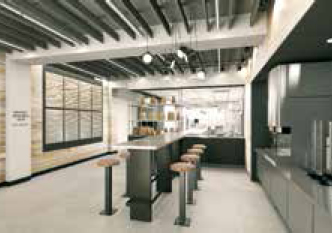 Delivery by design
In November, fast-casual chain Chipotle completed a project to open its first digital-only kitchen in Highland Falls, New York, USA. There's no on-site dining, and the space is smaller than the chain's usual restaurants, designed to serve customers picking up orders as well as delivery drivers.
Project leaders settled on Highland Falls because of the high number of cadets and staff at nearby U.S. Military Academy at West Point.
"This new type of restaurant opens up new markets for us, giving us the ability to add restaurants in markets where we may have been precluded from going due to lack of real estate or occupancy cost," says Tabassum Zalotrawala, Chipotle chief development officer.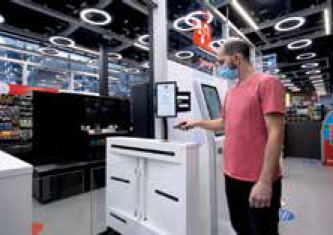 Autonomous experiences
Amazon Go has spent years grabbing headlines (and proving the potential) for its completely contactless experience—with a tapestry of cameras tracking customers' moves and charging their accounts for items they grab off the shelf and take from the store. But the pandemic has moved touch-free automation from tech novelty toward the mainstream.
In August, global convenience store chain Circle K announced a project to fully automate an existing store with AI sensors and cameras capable of tracking which products customers take off the shelves, then syncing that data to a customer's app, if desired. And in January, Canada's McGill University opened its retail innovations lab, featuring a fully autonomous Couche-Tard, a retail chain with hundreds of locations. There, retail students and industry project leaders can get an up-close look at the frictionless technology that researchers expect will continue in retail long after the pandemic is over.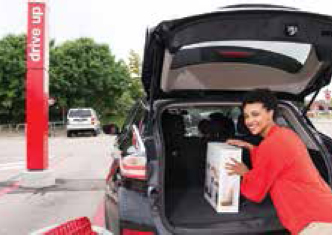 Groceries to go
Digital grocery sales shot up 30 percent globally during last year's lockdowns—and that consumer shift has held steady even in countries like China, where life has largely returned to normal. At China's Alibaba-owned grocery chain, Hema, more than half of the sales are made through its app. The Hema stores not only function as high- end grocery stores and restaurants, but also as fulfilment centers for online orders.
At Target, curbside pickup sales surged 734 percent in the second quarter of 2020 compared to the year before. And the retailer revealed that in the first half of the year, it had gained 10 million new digital customers. The organization had been relying on a third-party delivery service to handle grocery delivery, but then launched a project to handle grocery pickup in-house.
Storing cold food was a key barrier, and so, as part of a pilot project across a limited number of stores, teams redesigned physical spaces to expand the pickup area and accommodate cold storage. Target announced in June that it would roll out grocery pickup services in 1,500 stores across the United States.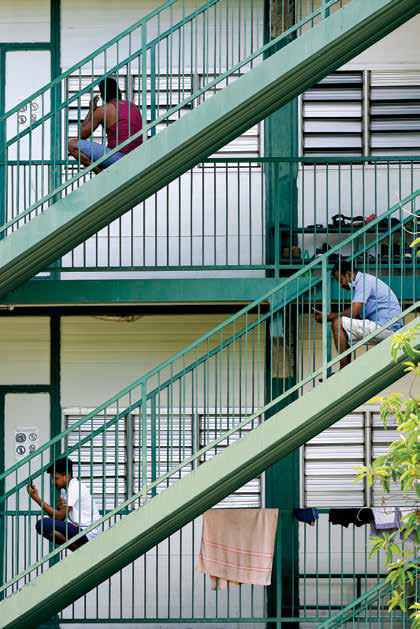 PHOTOS COURTESY OF, FROM LEFT, CHIPOTLE, MCGILL UNIVERSITY, AND TARGET. OPPOSITE PAGE, PHOTO BY SUHAIMI ABDULLAH/GETTY IMAGES
Workers during lockdown due to COVID-19 in Singapore.
Proactive Projects
These three initiatives show how project teams are aiming to make cities more resilient to ongoing and future threats.

Risk Reality
The Urban Resilience Project in Bolivia will fund infrastructure upgrades in the municipalities of La Paz and Santa Cruz as well as the analysis of the integration of hazard risk into public project design.

Hot Flash
Last year, as part of the City Resilience Program, the World Bank and Global Facility for Disaster Reduction and Recovery developed a new digital tool that was used to analyze urban heat islands in Saudi Arabia. Using open-source satellite data, the tool examined surface temperatures from a six-year period, highlighting areas that would especially benefit from heat-reduction projects.

Flood Zone
Rising sea levels and heavy rainstorms put the coastal city Copenhagen, Denmark at increasing risk of floods. After the 2011 floods, the government launched a 20- year climate adaptation plan, including multiple initiatives aimed at mitigating flood risks during a storm. One such project, completed last year, revamped the park Enghave-parken with levees on three sides, so it's now capable of containing nearly 6 million gallons (23 million liters) of water that might otherwise overwhelm the sewage system or flood the city's streets and buildings.
TREND WATCH
Citywide Digital Transformations
Real-time, geo-located information is the cornerstone to a successful response to emergencies and disasters. "It can help identify and trace movements of goods and people and, based on anonymized behavioral data, anticipate or identify people in need in disaster areas or crowds in areas of specific measures," says Matthew Gevers, chief urban designer for global professional services firm Arup, Hong Kong.

—Matthew Gevers, Arup, Hong Kong
But first, residents must all be online. An estimated 3.7 billion people—roughly half the world's population—are still offline, according to the World Economic Forum. It's false to assume that cost is the biggest barrier.
"India and Indonesia show that mobile penetration is extremely high even among low-income populations, and most mobile-based services—barring bandwidth-heavy ones like telemedicine—are not as data hungry as one might expect," says Brice Richard, smart cities lead, Arup, Singapore.
Instead, he says, the largest hurdle is that tech companies are more focused on servicing higher-income areas of the population, which leaves gaps in the marketplace. Government can support local and regional initiatives with simplified regulations, tax rebates or other monetary incentives for startups and established companies to innovate and implement.
Widespread mobile access allowed Singapore to quickly mobilize a public health response to COVID-19. Through the state-run WhatsApp group, citizens receive daily updates on confirmed COVID-19 cases, as well as notifications if they might have been exposed to someone with COVID-19 and need to quarantine. In South Korea, the government completed a project to leverage data from cellphones, credit card transactions and closed-circuit TV footage in contact tracing to track the movement of people who test positive for COVID-19.
Beyond projects that leverage widespread mobile access to drive citywide transformations, digital twin technology has emerged as a promising tech tool that could dramatically reshape how cities respond to disasters and emergencies.
Digital twins are "digital replicas of physical spaces like residential buildings, commercial buildings, factories, hospitals, railways, subways, bridges and roads," says Mark Enzer, director and head of the National Digital Twin Programme at the Centre for Digital Built Britain, Cambridge, England. "The more we know about a city and how it runs, the more we can plan, adapt, and change in the face of disasters and pandemics."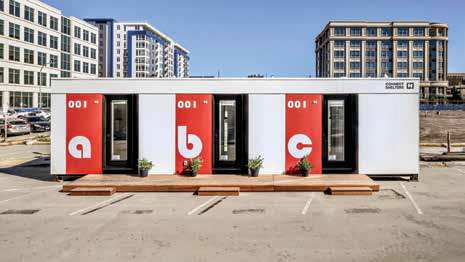 THIS PAGE, PHOTO COURTESY OF CONNECT HOMES. OPPOSITE PAGE, COURTESY OF ATELIERS JEAN NOUVEL (TOP) AND WOODS BAGOT. BELOW.
Connect Homes' modular homeless shelters
A Crisis Within a Crisis
The economic crisis that trailed COVID-19 has exacerbated a problem that's long plagued cities: homelessness. In the United States alone, the research organization Economic Roundtable estimates that the downturn from the virus will cause two times as much homelessness over the next four years as the Great Recession did.
While urban policies and programs aim to tackle the root causes, project teams are pushing forward with innovative solutions in the here and now. During the pandemic, Connect Homes shifted from making tiny homes to four-unit modular homeless shelters, each of which can be manufactured in roughly one day. Modular construction allows the project team to better control costs and find efficiencies, the team has said, compared with on-site construction.
To better help cities address homelessness in novel ways, the nonprofit the Housing Innovation Collaborative last year developed an online platform, called the Rapid Shelter Innovation Showcase, that encourages project teams to share detailed concepts and project plans. More than 40 projects have been included on the platform, from multistory buildings to a village of tiny houses designed by Perkins + Will.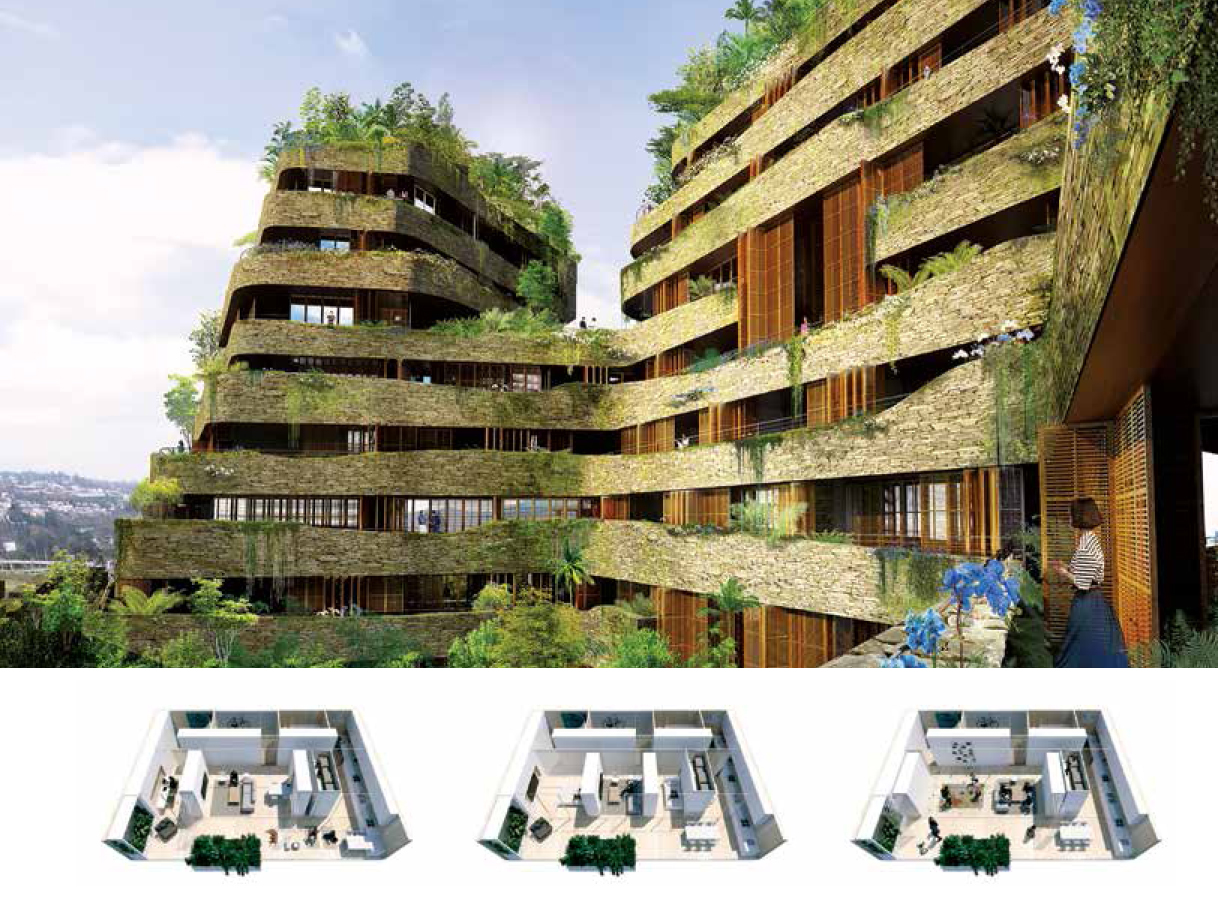 Renderings of the Aquarela project, scheduled to be built in Cumbaya, Ecuador. Below, three views of Woods Bagot's AD-APT concept
TREND WATCH
Reimagined Residences
While the lockdowns and the shift to remote work has spurred some city dwellers to seek out more square footage in leafier locales, "there will always be a strong demand for the vibrancy and activity of city living," says Simon Saint, principal and global sector leader—residential at global architectural firm Woods Bagot, London.
Indeed, between 125 and 150 buildings over 200 meters (656 feet) tall are expected to be constructed in 2021, according to the Council on Tall Buildings and Urban Habitat's annual report. Still, there's no question that the collective experience of staying indoors for weeks or months on end will have a lasting impact on construction projects.
MAXIMUM FLEXIBILITY
Last year, a project team at Woods Bagot completed the development of the AD-APT concept, a modular system that includes adjustable walls and screens that can divide or open an apartment's interior to create home offices, exercise rooms and second bedrooms on demand, Saint says.
To design a modular system that would suit end users, the project team crafted distinct solutions: a Split Shift Home (for parents who might be juggling child care and remote work) and a Double Desk Home (for partners who might be sharing the space while working separate remote jobs). Features include removable desk booths that tuck into the wall when not being used and an expanded living space and dining space with a retractable table.
Danish architectural firm Bjarke Ingels Group employed a similar idea in its Sluishuis project in Amsterdam. One type of unit in the project has two separate apartments linked with a backbone of shared center rooms, including a movable entryway.
Rather than leaning into social isolation permanently, many people will seek out reimagined ways of living together, argued project leader Bjarke Ingels, who envisioned the apartment working for divorced or co-parenting couples or other family arrangements that require the convenience of nearby cohabitation but the benefit of added privacy. Another driving factor that could spur interest in these types of together-but-apart living situations: the current economic climate, which is making it harder for many to afford housing alone.
BIOPHILIA BLOOMS
Balconies and private outdoor spaces were highly coveted during the early days of the pandemic, and that appetite will persist in urban design.
French firm Ateliers Jean Nouvel released renderings in January for its Aquarela project, a residential high-rise scheduled to be built by 2023 in Cumbaya, Ecuador. The project features apartment towers built around a lush central courtyard, and balconies and decorative crevices along the buildings' facades studded with native plants. Also in January, British firm Heatherwick Studio unveiled project plans for a pair of high-rise residential buildings slated to be erected in Vancouver, British Columbia, Canada. The towers are studded with angled balconies and plants—design elements that afford city residents access to green space, as well as more light and fresh air.
"The lockdowns have created this higher expectation that new homes will offer better light and air quality," says Saint.

—Simon Saint, Woods Bagot, London
For the conceptual project Seattle 2030, with an estimated project cost of US$1 billion, a project team at firm 3MIX designed three interconnected sub-towers with a multistoried central void that affords space for a residential garden, perched high above neighboring skyscrapers.
TREND WATCH
Rising Resiliency
The recent pandemic affords urban planners and government leaders a chance to better brace cities for future shocks like pandemics, natural disasters, and even poverty and homelessness. That will be crucial considering that the United Nations estimates that nearly three-fifths of cities with more than 500,000 people are at high risk of a natural disaster like a flood, drought or earthquake, and disease experts agree that there will be future pandemics similar to COVID-19.
What does it mean for cities to be resilient and how can project leaders accelerate efforts? PM Network talked to: Aziza Akhmouch, PhD, head of the cities, urban policies and sustainable develop-ment division of the Organisation for Economic Co-operation and Development (OECD) in Paris; and Stewart Sarkozy-Banoczy, senior adviser, North America, and director of strategic partnerships and development for Resilient Cities Network, Takoma Park, Maryland.
In what areas should leaders focus to make their cities more resilient to future pandemics
Akhmouch: City leaders should focus on making their cities smarter, greener and more inclusive. Cities have always been places of creativity, bottom-up experimentation, agility and innovation, and local leaders are ensuring this will be the case once again. From extensive use of digital solutions to decentralized production, remanufacturing and restructuring of supply chains to respond to goods shortages, post-crisis initiatives can be turned into an opportunity to improve people's lives and stimulate innovation.
Sarkozy-Banoczy: The bottom line is being prepared for what is coming and not making it worse. That means planning and protocols along the lines of equipment, supplies, training, teams, key locations, but most important, equitable, holistic resilience strategies and chief resilience officer positions.
We saw a number of cities pivot quickly because they had resilience strategies that included a range of stresses and shocks or even other forms of disease outbreak.

—Stewart Sarkozy-Banoczy, Resilient Cities Network, Takoma Park, Maryland, USA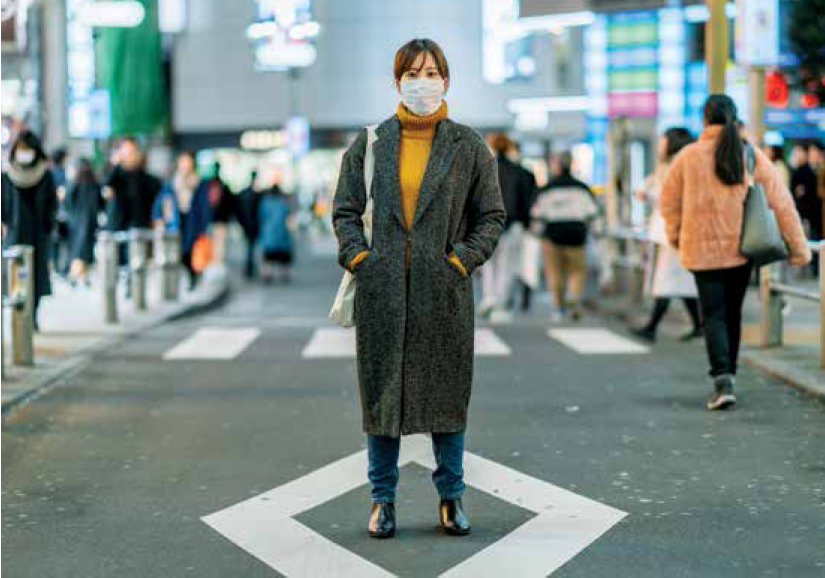 TOP PHOTO BY RECEP-BG / E+ / GETTY IMAGES. BOTTOM, ROSCHETZKYISTOCKPHOTO / ISTOCK / GETTY IMAGES PLUS
Here, people in Tokyo. Below, a flooded city in the United States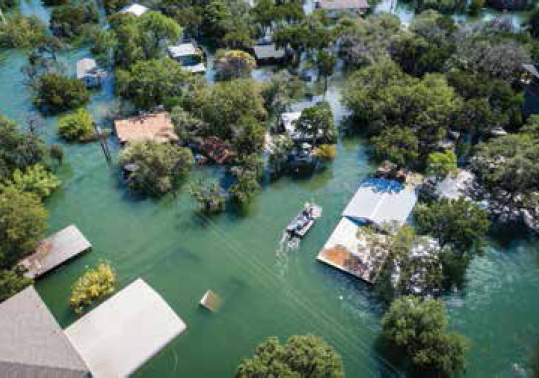 Can you share some standout examples of how cities are using technology to become more resilient to disaster, disease and inequity in the future?
Akhmouch: Tokyo, Japan created a one-stop database on the real-time COVID-19 situation including the number of infected people, their status, demographic characteristics, number of inquiries to the call center, number of people using subways, etc. The city also provided the website's source code as open data, so that other municipalities and institutions can use the data and replicate similar web pages. Many other tools hold potential to deliver more efficient, sustainable, affordable and inclusive local public services, such as real-time data, electronic congestion tolls, smart parking systems, Internet of Things sensors and smart contracts.
Sarkozy-Banoczy: A recent example from our network is the study done on heat in the city of Houston. The data pointed to a 20-degree [Fahrenheit] difference between some neighborhoods at the same time of day, identifying specific hot spots in the city, helping the city to plan greening and cooling efforts.
Climate change is a major threat to cities globally. How does that threat inform the urgency around city resiliency?
Sarkozy-Banoczy: Even pandemics and disease outbreak are linked to climate change, so we have to adjust our causation while preparing solutions for the symptoms—and not just in the emergency management and response sense, but in creating, re-creating, building and expanding infrastructure of all kinds. These can be massive projects to fortify port areas, efforts to decrease surges through oyster beds and mangroves, or just small neighborhood or community projects.
Akhmouch: Recent OECD analysis on cities' responses to COVID-19 has shown most currently proposed national economic recovery measures are either not green enough or are outweighed by ongoing support for brown activities, like fossil fuel subsidies. At the city level, an increasing number of green recovery initiatives have emerged, with particular emphasis on sustainable urban mobility and energy efficiency. Many solutions to decarbonize our cities and ensure the radical transformation of our production, consumption and mobility patterns are today more acceptable politically and socially than they were yesterday. We should not waste a crisis, and take the bold decisions we need to fit for the future. PM