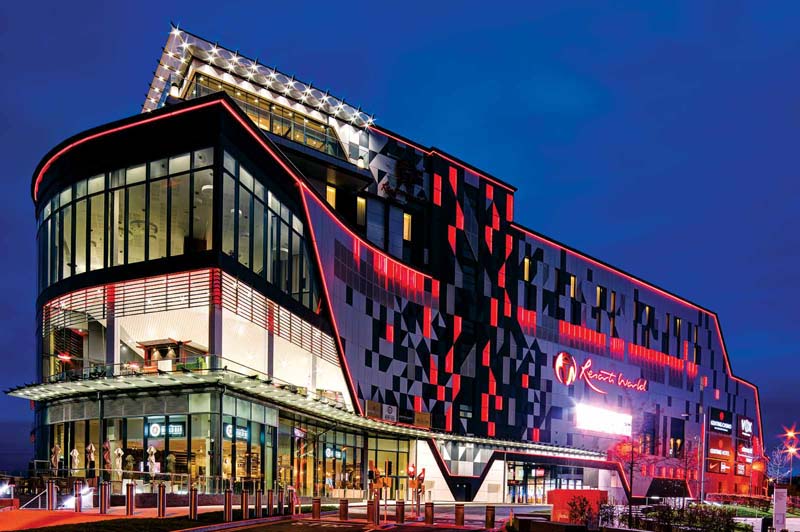 Resorts World Birmingham in Birmingham, England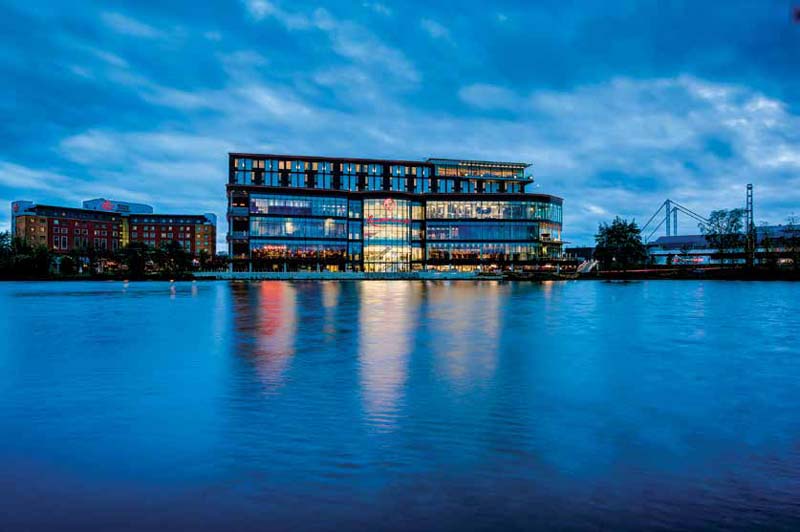 IMAGES COURTESY OF BENOY
As the U.K.'s largest casino resort, Resorts World Birmingham caters to high rollers. But long before it opened in October 2015 in Birmingham, England, the project team was going all in to ensure the £150 million entertainment complex lived up to the sponsor's bold vision.
By managing the project's design and construction phases, English architecture and planning firm Benoy took on a massive scope to steer Malaysian casino company Genting Group through its first European project. The 12-story, 85,000-square-meter (914,932-square-foot) facility lives up to its name: Resorts World contains a four-star hotel and spa, conference center, 18 bars, 50 retail shops, an 11-screen movie theater, numerous restaurants—and a casino that accommodates up to 2,000 gamblers.

—Daniel Asher, Benoy, London, England
During the five-year project, the project team managed 250 change requests and a flurry of surprises—from last-minute additions to waterproofing issues. "We were always waiting for the next big change," says Daniel Asher, associate director, Benoy, London, England. "We managed this change process by making sure any instructions were assessed quickly so we could make any affected parties aware of the impact on their design."
Although Resorts World Birmingham opened five months behind schedule and finished slightly over budget, the ROI for Genting Group—and the area's economy—made it worth the gamble. The resort created 1,100 new hospitality jobs and is slated to generate £33 million for the regional economy each year.
When planning the casino floor space, the design team couldn't leave anything to chance. U.K. gambling laws restrict how many slot machines and gaming tables were allowed in the 8,000-square-meter (86,111-square-foot) casino. The casino operator proposed precisely how many machines and tables would work best in the space, and then Benoy reviewed design schemes with Genting Group. The stakes were high: Genting Group couldn't submit its gambling license application until the mix of machines and tables was finalized.
While Benoy designed the casino's shell, another architecture firm designed internal space and helped arrange the tables and machines to ensure smooth gambling pit traffic flow and address security requirements, says Andrew Tape, senior associate director, Benoy, London, England. "Some machines take up more space than others, and security was an issue, too." For instance, the largest tables typically require the most security guards, so design drawings made room for those extra people, he says.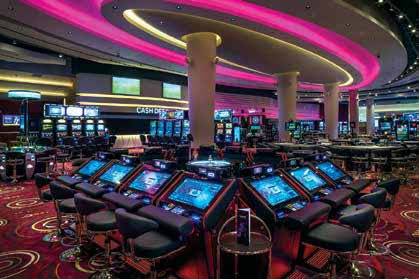 CASINO FLOOR PHOTO COURTESY OF DESIGN AT SOURCE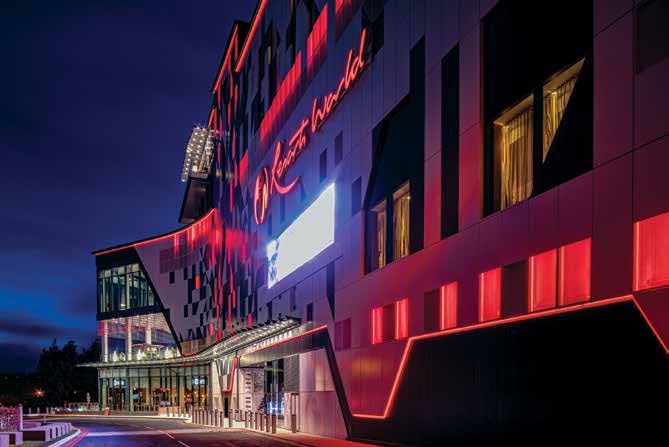 A Winning Hand
2007: Benoy begins concept design work.
September 2012: Main contractor appointed. Benoy begins construction stage design work.
October 2012: Existing structures removed from site. Genting Group requests pool be added to hotel design.
January 2013: Construction begins. Spa client requests doubling its space.
June 2013: Project team begins work to fix waterproofing systems issues in basement.
October 2014: Casino and conference center units handed over so internal fit-out work can start.
February 2015: All food and beverage units handed over to the tenants so they can start internal fit-out work.
October 2015: Resort opens.

Parking Ramp-Up
Three months into the construction phase, in March 2013, Genting Group decided to add a level to the parking garage to accommodate more vehicles. Mr. Asher and his team met with the contractor to resolve the structural engineering requirements and risks. Could the original foundation handle the weight of another level of cars? (Yes, they determined). They also discussed added costs (£1.2 million). And they agreed to design the parking addition in a way that would disguise the added height of the structure—among other things, the team used the same detailing and materials specified in other parts of the project.
"Architecturally, it was important that this additional level did not compromise the original design approach and appear as a 'bolt-on' to the scheme," Mr. Asher says.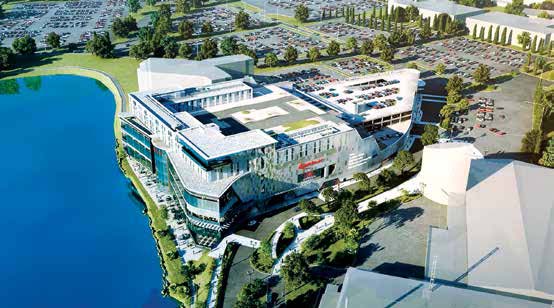 —Andrew Tape, Benoy, London, England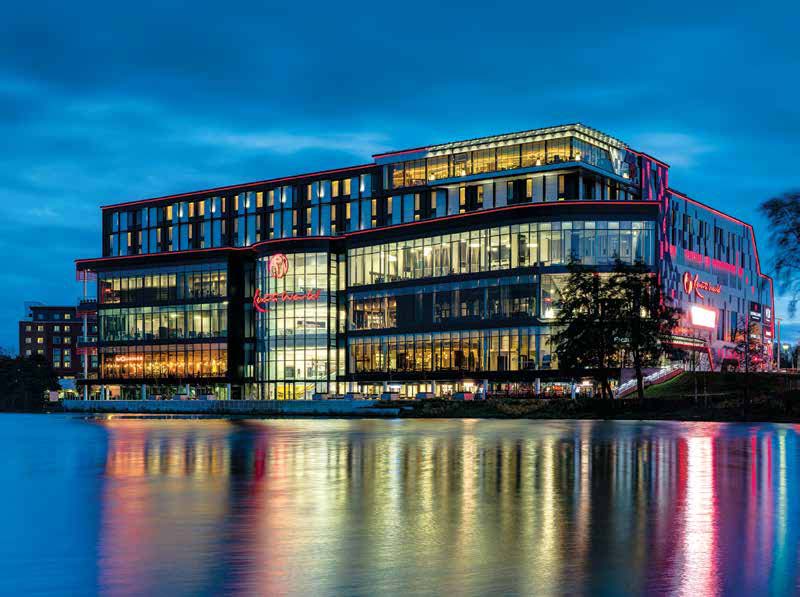 Taking a Dip
From the start, Genting Group imagined a glitzy four-star hotel that had everything—except a swimming pool. Genting originally believed the casino and shopping would provide guests with more than enough leisure activities. But in October 2012, Genting realized the pool was a must-have. That's when Mr. Tape's project team dived into change management mode—and seized an opportunity to solve two problems.
The pool request came just months before the spa owner made a separate request to expand its second-floor space. So the pool was incorporated as part of the spa expansion. That decision was made only after Mr. Tape's team consulted with a pool designer and then facilitated negotiations among the spa designer, a structural engineer and the mechanical and electrical engineer. The changes had only a minimal impact on the timeline and cost.
"By coming together and thinking as a multidisciplinary team, not individually, we helped to ensure as little of the design was impacted for each of the other contractors throughout the process," Mr. Tape says. "It means less work and less money for exacting that change."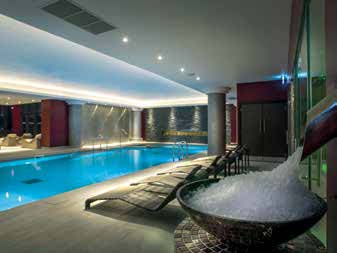 POOL PHOTO COURTESY OF MELLING RIDGEWAY + PARTNERS

Royal Flush
Built next to a lake, the resort offers visitors a relaxing waterfront view. But the body of water provided no respite to the project team in early 2013. With the lake's shoreline just 6 meters (19.7 feet) from the north side of the resort's foundation, water began seeping into the site's 8-meter (26.2-foot)-deep basement. That forced the project team and technical experts to resolve breaches in the waterproofing system that previously met project requirements.
"Once they started to dig down, there was more water around the site than initial investigations found," Mr. Asher says. "Pockets of water began to find their way into the building. We'd plug one hole and it would find a way in somewhere else. It was almost as if we were chasing the water around."
Despite careful advance planning that identified seepage risks, the team ultimately realized, following an examination by an independent technical specialist, that the waterproofing contractor's installation didn't match drawings or technical requirements, Mr. Tape says. Project leaders met with three new contractors before they found a company that could solve the problem without having to replace the entire system. The remedial work costs were significant when compared with the original waterproofing installation, and the issue was among several that contributed to a five-month project delay impacting all of the construction packages following it. PM
TALENT SPOTLIGHT

Andrew Tape, senior associate director and global building information modeling coordinator, Benoy
Location: London, England
Experience: 12 years
Other notable projects:
1. TSUM Central Department Store renovation in Kiev, Ukraine, scheduled to be completed in 2017. Mr. Tape served as design project leader.
2. Galerie Šantovka shopping mall in Olomouc, Czech Republic, completed in 2014. Mr. Tape served as a project leader during the design and construction phases.
Career lesson learned:
"Communication is the key to ensuring the successful outcome of a project. Ultimately, good communication is evident in the design and construction of a project, and significantly helps to reduce the negative impact on both the project and the project team."