Abstract
Organizations face many hurdles as they implement global change in their decision making and portfolio management processes, and this can be very challenging in global companies. This 3-year case study will describe how Microsoft Customer Service and Support instilled a governance culture, improved their decision-making processes, and delivered tangible results to the corporate bottom-line. This large international division at Microsoft has successfully launched a new divisionwide strategy for managing their strategic projects across the division, and are further leveraging this initial solution to improve project and portfolio management across many of their groups. This presentation will provide insight into how this division successfully implemented a cross-divisional strategy and solution for improving decision making, the challenges that were overcome, and the goals for improving this solution moving forward. In particular, attendees to this session should expect to learn how this global deployment was structured and managed to ensure ongoing progress and success. Attendees of this presentation will receive a hand-out with an example of the organizational readiness tool used to assess and track incremental progress of this solution within groups, with direction for using this and other tools in their own deployments.
Background
Microsoft Customer Service and Support (CSS) is a global organization focused on helping customers and partners maximize the use of their technology investments. Serving millions of customers around the globe, in more than 40 languages and 75 locations, the organization supports all customer segments from consumer, developer, and IT Pros to partners and the enterprise. This global organization has international offices with distributed management to ensure the best customer experience for all customers. There are competing needs for regional planning and strategic activities, as well as for centralized and coordinated planning, which must also be closely coordinated with the ongoing product release cycle of the Microsoft organization.
The Solution
First Steps
As described above, the CSS organizational constraints create a complex environment, and in 2005, a new strategic project management office (PMO) was created to address the many challenges. The newly created PMO supported high-impact, strategic projects for the vice president of CSS and business segment leaders (CSS Leadership Team). These include full-time project manager resources, standard project management tools and training, and consulting resource procurement. Initially, this PMO was tasked with improving on-time delivery and simplifying the process for prioritizing projects and assigning available project managers. The management directive was the KISS principle ("Keep It Short and Simple"), and a simple process was developed as a pilot activity. This initial approach was determined to be a step in the right direction, but with considerable feedback for improvement, as management realized that there was a strong requirement for detailed and accurate information to support the decision-making process.
Maturity and Change
In 2007, as the organization matured, the CSS leadership team established one mission, seven strategies, and three goals to guide the direction of the organization. Strategic initiatives and goals were identified for each group in alignment with this framework. The PMO became the strategy management group to oversee the strategic portfolio and the day-to-day project management resources were assigned to the groups within the division. In aligning the strategic portfolio management with the new direction, the approach was closer to Albert Einstein's maxim that "everything should be made as simple as possible, but no simpler."[1]
Armed with the lessons learned from the initial activity, the strategic portfolio management began a true enterprise deployment with the following objectives:
(a) Improve the overall portfolio visibility
(b) Ensure alignment to strategy and goals
(c) Improve accountability of project benefits back to business
(d) Enable better prioritization of projects and limited resources
One guiding principle was that this needed to be a single enterprise deployment, balancing corporate standards with the need for flexibility for the different groups within CSS. Three key building blocks were identified as areas that would be necessary for the ultimate success of the overall solution: (1) tools and data, (2) people and process, and (3) governance. Each of these needed to be better understood, identified, and incorporated into the final solution. Exhibit 1 describes these building blocks in greater detail.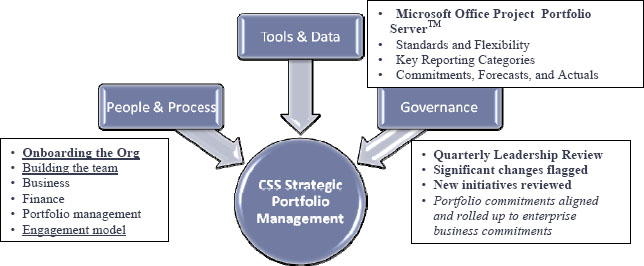 Enterprise Deployment Success
One lesson learned from the initial deployment was that, in order to support the complex and matrixed organization, this solution would need to be able to support all projects within CSS, and not just the strategic initiatives. CSS is a complex organization, as described above, and as shown in Exhibit 2 below.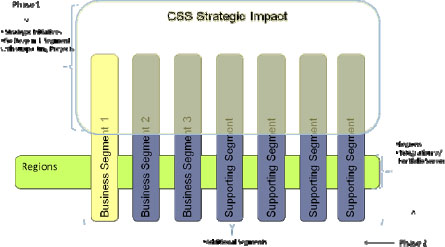 CSS is divided into seven business segments or sub-units within their division, and each of these business segments needs to be able to work with the Microsoft IT group, support the thirteen internal Business Customers, and operate across five regions.
A three tiered strategy was identified to maximize participation. First, keep the corporate standard and solution overhead for every business segment as light as possible to minimize the "cost to play." This was accomplished by (a) ensuring that only "must-have" features were included in the corporate standard, (b) providing rich training and support to these groups, and (c) configuring a centralized tool, Microsoft Office Project Portfolio Server TM to make data collection and validation easy. Second, offer the business segments some individual and segment level benefits for their participation and appropriate to their maturity level, increasing their internal commitment to the solution. This was different for every group, but because of the centralized repository it was possible to ensure that groups could see segment level views of their data, and could support segment level governance activities. Third, through communication, demonstration and governance participation, reinforce with executive management the business value of this solution in order to maintain and grow their commitment to this solution. Regular usage of this solution in executive meetings and with senior leadership ensured that they saw the value of the overall approach and solution, and that their feedback and requirements were captured and used to incrementally improve the solution to better address their business needs. These strategies were incorporated into an overall "onboarding process," the details of which are provided in Exhibit 3.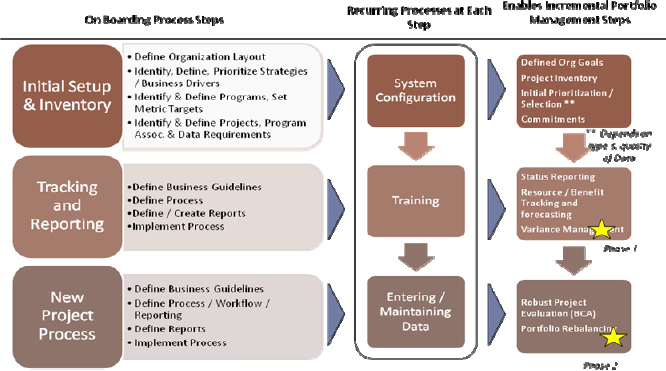 Measuring Success
The key business success criterion was to attain the organizational benefits (goals) established in the Strategic Initiatives. We approached this challenge by tracking commitment target, actual benefits attained, and forecasted total benefits (Exhibit 4). This provided our "True North" compass point of where we wanted to go (target), the "You are Here" spot (actual) and the "You will be Here" point (forecast) (i.e., point at which you will be if you continue on the same path). Using this navigational system, we were able to make decisions in Q3FY08 to change our predicted course from not meeting our goals to actually exceeding them.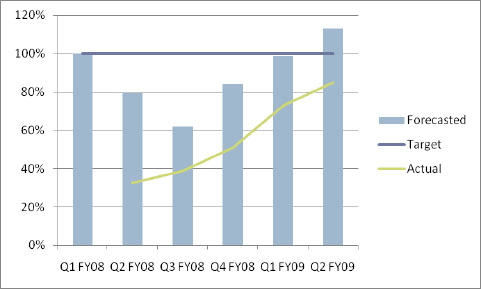 We would not have been able to achieve the business goals without onboarding the groups within the division onto the tool. Given that onboarding was such a key dependency to success, we decided to develop an onboarding readiness assessment and management tool for the organization. A sample of this tool is shown in Exhibit 5, which was developed in Excel. This tool identified all of the segments and independent regions in the left-most column, and the different areas of portfolio and project management, which were included in the centralized solution, as well as those areas that were planned for deployment in the near term.
While some areas were required for adoption, others were optional and were offered to the segments and regions for adoption to support their own business needs. For example, portfolio management at the strategic level was part of the corporate standard, and required for adoption, and all segments adopted this by the first quarter of the fiscal year (for Microsoft, this is third quarter of the calendar year). Other areas were optional and were offered to business segments and regions for their own usage.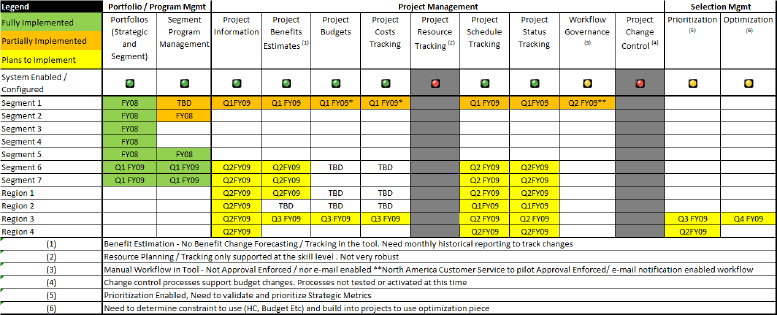 One note: one business segment was identified with a high level of motivation and readiness to adopt additional functionality, and this segment became our pilot customer. This approach enabled much of this solution to be developed and tested within a real business environment, and helped to create "buzz" and a success story that could be shared with the rest of this organization.
Finally, as an input to the tool in Exhibit 6 we also developed a self-assessment survey that could be taken by each segment, prior to adoption of a solution area, in order to determine their level of readiness for this solution area.

Together, these tools enabled an orderly framework for onboarding the organization, and for communicating to executive management and to the segments regarding the progress and vision for onboarding the organization. More details regarding these tools will be provided at the session.
Next Steps
Based on the success to date, this solution has achieved high adoption in key groups and is now a part of their regular ongoing governance meetings and activities. Future steps include 1) deeper adoption of developed capabilities to additional segments, pending readiness, and desire; 2) incorporation of a greater number of projects within the overall CSS portfolio to capture a more complete picture of the investment and business commitments; and 3) investigating the possible integration of the portfolio management solution with the executive score-carding tools.
Final Thoughts
This session presents a 3-year case study by Microsoft CSS, as they implement and deploy an enterprisewide portfolio and project management solution. Our experience has been positive, with a successful solution, and there are a number of recommendations that can be summarized from the case study above that we believe lead to improved adoption:
Start with a targeted area for your solution, with good sponsorship
Implement a standard governance review and incorporate that into the rhythm of the business
Keep the "corporate standard" minimal, but offer additional carrots to business groups to solicit buy-in
Resist the temptation to include more in the solution than the organization can accept
Keep the onboarding approach flexible to meet different business needs
Use initial wins to promote buy-in and progress